Protect Important Devices from Extreme Hot or Cold Temperatures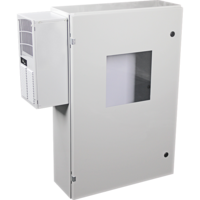 April 6, 2021 – The STI Metal Protective Cabinet with AC/heat keeps the inside of the cabinet cool or warm while temperatures outside climb or plummet. AC/heater unit allows devices to be mounted in temperatures exceeding normal parameters, while also protecting against vandalism, dirt, dust and grime.
The AC/heater unit allows sensitive devices to be installed in areas suffering from damaging temperature conditions, dirty locations or experience high humidity. The large enclosure can also eliminate the expense of air conditioning or heating an entire warehouse or constructing a climate-controlled room for the panel.
Constructed of super tough, heavy-duty 14 gauge metal with baked enamel finish. The EM362408WA with window is self-contained and allows for optimal central location of the control panel (also available with a solid door). This cabinet will help reduce expensive long wiring runs from an inefficiently placed control panel and eliminate the need to wire to an isolated storage room. Installers will save on equipment and wiring costs.
Type 4, CE and UL Listed. The cabinet is also available without AC/heat.
To order or receive more sales information on the STI Metal Protective Cabinet (EM362408WA), call 800-888-4784, fax 248-673-1246, email [email protected] or visit www.sti-usa.com. STI's address is: 2306 Airport Road, Waterford, MI 48327-1209.