ProTec Series 50 Beam Axles are equipped with non-vented drum brake.
Press Release Summary: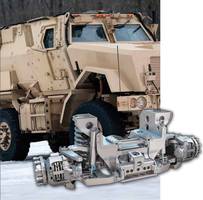 ProTec Series 50 Beam Axles are offered in gross axle weight of 60,000 lbs for tandem and 90,000 lbs for tridem. Units come with anti-lock braking and central tire inflation system. Products are integrated with driver-controlled differential or inter-axle differential lock and use theater-proven technology. Beam axles are available in multiple configurations and are suitable for military-specific applications.
---
Original Press Release:
Meritor® Launches ProTec Series 50 Beam Axles Optimized for Military Duty Cycles
Meritor, Inc. (NYSE: MTOR) announced today the introduction of the ProTec Series 50 range of beam axles for military-specific applications. The axles will be available in the fall of 2018.
"We're expanding our ProTec portfolio to include a series of beam axles that have been engineered to satisfy very demanding military specifications as well as performance and dependability requirements," said Joe Muscedere, general manager, Off Highway, Specialty & Defense. "This product, featuring a new beam design, utilizes theater-proven technologies to fulfill the mission at hand."
Expanding on the legacy of Meritor's ProTec lineup, the optimized beam axles share many common components and technologies with existing Meritor products. By utilizing proven technologies, Meritor has reduced lead times for quicker deliveries. The axles meet the Department of Defense's elevated technology readiness levels.
Available in multiple configurations, the ProTec Series 50 beam axles offer gross axle weight (GAWR) of 60,000 pounds for tandem and 90,000 pounds for tridem, with broad overall ratio selection ranging from 3.46:1 to 24.8:1 to fit unique and demanding applications. Driver-controlled differential lock or inter-axle differential is standard for all carriers and inter-axles to maximize traction.
Anti-lock braking system capability delivers optimum safety and performance, and the non-vented drum brake protects the braking system while operating in adverse conditions. A central tire inflation system for the planetary wheel-ends is optional.
About Meritor
Meritor, Inc. is a leading global supplier of drivetrain, mobility, braking and aftermarket solutions for commercial vehicle and industrial markets. With more than a 100-year legacy of providing innovative products that offer superior performance, efficiency and reliability, the company serves commercial truck, trailer, off-highway, defense, specialty and aftermarket customers around the world. Meritor is based in Troy, Mich., United States, and is made up of approximately 8,000 diverse employees who apply their knowledge and skills in manufacturing facilities, engineering centers, joint ventures, distribution centers and global offices in 18 countries. Meritor common stock is traded on the New York Stock Exchange under the ticker symbol MTOR. For important information, visit the company's website at www.meritor.com.
More from Laboratory and Research Supplies and Equipment