Property Alarm acts as electronic watchdog.
Press Release Summary: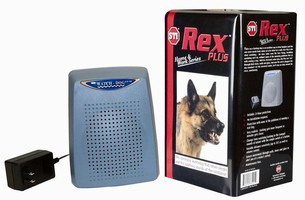 Featuring up to 30 ft variable distance sensitivity, Rex Plus (ED-50) requires 110 Vac electrical outlet to protect homes and businesses from burglars, thieves, and intruders. It can see through thick doors, walls, and glass with electronic radar eyes and produces barking alarm when intruder approaches protected area. Any indoor location can be selected where movement is to be detected. Unit offers continuous sounds of rainforest to announce arrival of visitors or barking dog for 15-20 sec.
---
Original Press Release:
Rex Plus® - The Electronic Watchdog That Never Sleeps
STI announces an effective way to help protect homes and businesses from burglars, thieves and intruders. Rex Plus (ED-50), the electronic watchdog, can "see" through thick doors, walls and glass with his electronic radar eyes and produces a barking alarm when a person approaches a protected area. Rex is versatile and provides an excellent form of protection, without the annoying problems of owning a real dog. He doesn't require sleep, food or a walk. Simply plug him into any standard 110 VAC electrical outlet, and he'll stay on duty around the clock. Rex has variable distance sensitivity (up to 30') as well as volume control. Any indoor location can be selected where movement is to be detected; such as hidden behind the front door. Turn Rex Plus on and he begins detecting. When he senses movement, he begins to emit the ferocious barking sounds of a large, unhappy attack dog. The closer the intruder gets, the more frequent the barking becomes. As the intruder backs off, the barking decreases in frequency, stopping completely when movement is out of range. It is very realistic and effective. In addition to the barking sound of a ferocious attack dog, Rex also offers continuous sounds of the rainforest to announce the arrival of visitors or a barking dog for 15-20 seconds, then a siren. As stated by Ann Bryant, director, Bear League: Actually, we love this area and our Black Bears are a vital part of it. But they really are burglars-constantly in search of any kind of food wherever they can find it. And often, that's in the kitchens of homes and cabins. It was a severe problem and we tried just about everything to solve it-pest control products, Pine Sol, chemicals of one kind or another, motion activated alarms and so on. Nothing seemed to work. Then someone mentioned electronic barking dog alarms. People depend on our advice so we tested all of them-eight different kinds from eight different companies. Based upon their effectiveness, dependability, price and other factors the clear cut winner turned out to be STI's Rex Plus Electronic Watchdog. We ordered cases and cases of them. The word went out. And people lined up to buy them. Bottom line: Rex works. It has indeed helped solve our problem with bears breaking into residences for food and the resulting destruction. Bears no longer are creating havoc in their quest for something to eat before going into hibernation. As far as the bear is concerned, he or she is totally convinced the home that is protected by Rex is guarded by a large, vicious and very angry German Shepherd. It helps too that the closer the bear gets, the louder and angrier Rex becomes. The bear wants no part of that and quickly trots off. We think Rex is great! In fact, we have already placed an order for a whole new shipment of them. For more information on STI Rex Plus (ED-50) or the entire Stopper® Line, call 800-888-4784, fax 248-673-1246, email info@sti-usa.com or visit www.sti-usa.com. STI's address is: 2306 Airport Road, Waterford, MI 48327-1209. Company Name: Safety Technology International, Inc. (STI) Address 1: 2306 Airport Rd. City: Waterford State: MI Zip: 48327 Country: USA Phone: 248-673-9898 URL: www.sti-usa.com Contact Name: Becky Wyble Title: Adv. Mgr. E-mail: bwyble@sti-usa.com
Contact This Company Download Spec Sheet
More from Electrical Equipment & Systems