Propane-Powered Vacuum promotes safe concrete grinding.
Press Release Summary: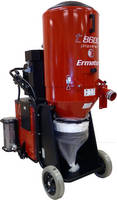 Providing 410 cfm and 115 in. of water lift, T8600 Propane protects workers from hazardous dust and keeps environment clean. Featured engine is 18 hp Kawasaki motor with direct-driven turbine, and performance is capable of keeping up with any model/brand of propane grinder and saw. Along with HEPA filters and coated polyester pre-filter socks, features include drop-down disposal system, Longopac® collection system, and JetPulse® filter cleaning.
---
Original Press Release:

New Propane Vacuum Allows Safer Concrete Grinding without Electricity



Ermator, the leading manufacturer of HEPA vacuums for the construction industry, is introducing a new propane vacuum.



The T8600 Propane is build on the same model as the T8600 Dust Extractor, the best selling vacuum for concrete grinding in the world.  By combining the performance of the T8600 with a propane-powered engine, Ermator is offering a vacuum that can keep up with every model and brand of propane grinder and saw on the market today.



"We have seen the market growing for propane grinders, but until now there weren't propane vacuums that could keep up with any of these grinders", according to Fredrik Akermark, VP for Marketing of Ermator. "We see a great potential for this product, not only for use with grinders but also with saws used for road work".



The T8600 Propane has an 18HP Kawasaki motor made by American Onyx, with a direct-driven turbine.  It provides 410CFM and 115" of water lift. "By combining this high powered, high quality motor with all the standard features from our electric-powered vacuums, we are bringing an amazing product to the market", Akermark continued.



All Ermator dust extractors include standard features that protect workers from hazardous dust and keep the environment clean:



• Individually tested and certified HEPA filters

• Coated polyester pre-filter socks

• Drop-down disposal system

• Longopac® collection system

• JetPulse® filter cleaning



Preorders for the T8600 Propane started in March of this year, and orders are coming in constantly. "We will need a couple of months to fulfill these orders before we will be able to accumulate any stock", according to Akermark.



For more information about the T8600 Propane and other Ermator products, visit the Ermator website at http://www.ermatorusa.com or call 813- 855-736-2869.