Prompting Software supports all world languages.
Press Release Summary: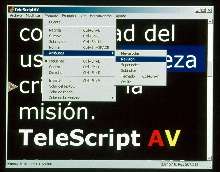 Spanish version of TeleScriptAV prompting software provides prompting, navigation, and help files in Spanish. Fully Unicode compliant, software supports all world languages and allows operation in any language using single version of program. System works with off the shelf hardware and is designed for single script prompting applications used in television studio, commercial production, corporate, and government applications.
---
Original Press Release:
Telescript Offers Versatile TeleScriptAV Prompting Software in Spanish

Full Unicode Compliance Provides Prompting, Navigation & Help Files In Any Language

Norwood, NJ (November 14, 2002) -- Telescript, Inc. has announced that the company's popular TeleScriptAV prompting software is now available in Spanish. The versatile software provides prompting, as well as all navigation and help files in Spanish. In addition, since TeleScriptAV is fully Unicode compliant, users can utilize the software in virtually any language they desire. The easy to use software works with off the shelf hardware and is designed for single script prompting applications commonly used in a wide range of television studio, commercial production, corporate and government applications.

"TeleScriptAV provides broadcast and production professionals with a highly versatile prompting solution that is ready to run out of the box in Spanish," said John McGrath, Managing Director, Telescript, Inc. "Given the large number of Spanish speaking countries and areas where Spanish is a second language, we are fulfilling a significant need in the prompting market with a Spanish version of TeleScriptAV."

The Spanish version of TeleScriptAV features all of the performance features and compatibility of the English release. The prompting software features full Unicode compliance to support all world languages. No additional compiled programs, third-party plug-ins or drivers are required. This exclusive capability allows TeleScriptAV to operate in any language using a single version of the program. The software's ability to work with off the shelf hardware also eliminates the need for proprietary hardware, specialized drivers, and connectors, thus removing compatibility concerns and reducing customer service issues.

TeleScriptAV is based on Windows technology to deliver mission critical reliability, scalability, and the ability to be easily upgraded. By adopting Windows' graphical user interface, TeleScriptAV will work with virtually any word processing documents and includes features such as spell-check, book marking, and rich text formatting, to name a few. For ease of operation, TeleScriptAV also offers a variety of prompting controller options including Telescript's 10-button serial hand controller and a wheel-enabled mouse.

For more information on Telescript teleprompting systems, call 201-767-6733, fax 201-784-0323, or e-mail info@telescript.com. You can visit Telescript's web site at www.telescript.com.

Telescript, Inc. is the leading supplier of professional teleprompting systems for broadcast, production and presentation applications. The company offers advanced prompting software available and a comprehensive selection of CRT and LCD Flat
Panel Teleprompters for studio, field and portable applications. Telescript also offers AR Tempro Glass that virtually eliminates glare and reflections for numerous broadcast and sports applications.
More from Laboratory and Research Supplies and Equipment