Prominent Music Venue with Over 400 Live Shows Per Year Plus High-End Corporate Clients Returns to FOR-A for New Switcher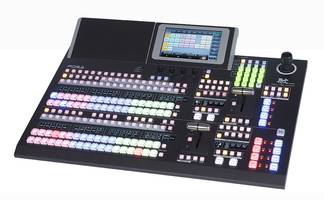 Rock-Solid Stability, Customer Service and Features Designed for One-Man Operation Set the Stage for HANABI HVS-490
Cypress, CA, September 3, 2019 – As the first concert venue designed specifically to optimize the acoustics and performance of jazz music, the 36,000-square-foot, $64 million SFJAZZ Center has a reputation for quality. And with over 400 live shows recorded each year, reliability and durability rank just as important to the Center's video supervisor. 
When it came time to upgrade the six-year-old FOR-A HVS-350 video switcher, SFJAZZ Video Production Supervisor Jake Drake turned to the same vendor he'd used for the past several years of live production. "The stability of a FOR-A product is unmatched," explained Drake. "We turn it on, and it just keeps on running. We do over 400 shows a year of live music, plus another 40-50 with our rental partners. This switcher is heavily used. We need 100 percent, rock-solid stability. FOR-A is where it's at for us."
Drake said he's extensively demoed competitive products from other top manufacturers, but FOR-A's customer support and the feature-rich design of the FOR-A HANABI HVS-490 video production switcher rose to the top of his list.
The new HVS-490 was delivered quickly and has already been put through its paces on numerous live shows since its installation in May. FOR-A provided SFJAZZ with a loaner switcher free of charge while Drake waited for his new switcher.
"Features such as the web panel, macros and two M/Es have been a big advantage to us already," said Drake. "With the macro functionality, we're able to do a complex picture-in-picture. Having two M/Es is also huge for us. We're able to preview transitions. Any M/E can be assigned to multiple monitors on stage – using the same control panel. Overall, it packs so much more that we can achieve into one switcher."
The SFJAZZ media suite is located a floor above the SFJAZZ Center's Robert N. Miner Auditorium. Live shows are switched and cameras are controlled remotely by one person. Drake has found the web panel feature a huge help in this regard. "Having this web panel feature and controlling the switcher via a computer allows us to streamline our productions in a way we couldn't before. We just installed this feature, but I believe it's something we'll take advantage of a lot in the future."
One example of an SFJAZZ live show is available for viewing here.
High-profile corporate clients such Fortune 500 companies and regional performing arts presenters recently produced live programming from the SFJAZZ Center using the venue's video production team and facilities.
About SFJAZZ
Founded in 1983, SFJAZZ presents the greatest names in jazz, Latin and global music and nurtures the art of improvisation through its year-round concert, commissioning and education programs. The West Coast's biggest jazz presenter serves over 200,000 fans and students every year and has several award-winning resident jazz ensembles - the world-renowned and award-winning SFJAZZ Collective and the SFJAZZ High School All-Stars.
The SFJAZZ Center opened in January of 2013 and is the only stand-alone facility built specifically for jazz in the United States. Designed by San Francisco architect Mark Cavagnero, the LEED-Gold certified center offers the superb acoustics of a great concert hall and the relaxed intimacy of a jazz club.
Follow SFJAZZ on Facebook & Twitter / Visit us at SFJAZZ.org
More from Electronic Components & Devices