Projectors are for permanent installation applications.
Press Release Summary: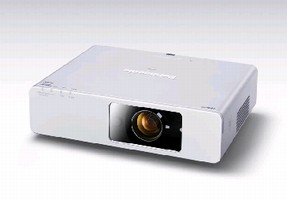 Based on concept of one projector per room, PT-F100 Series combines Micro Cut Filter with Auto Rolling Filter to minimize brightness loss due to dust. Daylight View 3 includes built-in ambient light sensor that detects room brightness and adjusts operation accordingly. Featuring wireless design, Models PT-FW100NT and PT-F100NT include Wireless Manager ME 4.0 software, which stabilizes wireless connection. Projectors can also be operated through LAN network using web browser.
---
Original Press Release:

Panasonic Integrates Futuristic Features in New Series of Permanent-Installation Projectors



PT-F100 range offers newly developed image-enhancing functions, advanced wireless capabilities and hassle-free operation

August 07, 2007

Panasonic, the leading global manufacturer of consumer electronics, has announced that it has recently launched a new-concept series of projectors in response to a growing market for permanent-installation projectors that are rich in features, easy to use and require minimum maintenance.

Based on the concept 'one projector per room', Panasonic has developed the PT-FW100NT, PT-F100NT and PT-F100 in line with the company's continuing program to improve profitability and market performance by offering products that satisfy different consumer profiles.

"Panasonic is addressing the need for high-performance projectors that can be operated by practically anyone and are maintenance free. The new line features futuristic functions and technologies that optimize image quality and virtually eliminate malfunctions. The projectors are manufactured and packaged under very strict quality control supervision at Panasonic's manufacturing facility in Japan, ensuring the products are in the best condition when they reach consumers," said Hiroshi Maruyama, Product Manager, Panasonic Marketing Middle East.

Panasonic has also developed a system that helps to prevent dust from accumulating in the projector, to ensure maximum projection quality. The Micro Cut Filter combines with Panasonic's original Auto Rolling Filter to minimize brightness loss due to dust. Additionally, Panasonic has enhanced the projector's anti-dust design by totally reengineering the airflow path from intake to exhaust, effectively sealing off the projector interior.

Unlike mobile projectors, the new range does not require extensive preparation such as setting up the projector and screen, manually making zoom and focus adjustments, or organizing the extension chord and other wirings for the power outlet. Instead, the new permanent installation projectors are equipped with improved wireless capabilities, and supplied with an enhanced remote control (RC).

Moreover, the new series reduces annoyance during presentations as the projector can be placed optimally to keep fan noise and hot-air exhaust away from the audience, while also eliminating the need to disconnect terminals, wait for the fan to stop, pack equipment into bags or return equipment to the storage area.

To further ensure high quality images, Panasonic has also incorporated the new lamp drive system, as well as the Daylight View 3 technology, which makes images brighter and higher in contrast so that they appear crisp, vivid and easy to see even in brightly lit rooms. Daylight View 3 also includes a built-in ambient light sensor that automatically detects room brightness and accordingly adjusts operation.

The projectors also adopt Wide Aspect Projection, which optimizes projection size for more dynamic and impressive presentations. Taking advantage of the widescreen projection, the PT-FW100NT can simultaneously display images from two sources onto a single screen through the Side-by-Side Function.

The PT-FW100NT and PT-F100NT, which mark Panasonic's seventh generation of wireless projectors, have been equipped with the Wireless Manager ME 4.0 communications software. The Wireless Manager offers a major breakthrough in simplifying set-up, stabilizing the wireless connection, and applying Universal Design throughout.

The PT-FW100NT and PT-F100NT also offer other convenient wireless functions such as the Wireless Prompter (Secondary Display Transmission), selective area transmission and a 16-window index style that allows projection of images from up to 16 PCs at the same time. Wireless transmission is also possible from one PC to a maximum of eight projectors at a time.

The projectors can also be operated through a LAN network using a conventional web browser. The projector can even send an email message to notify the operator when an error has occurred, or when the lamp needs to be replaced.

"With these innovative features and groundbreaking capabilities, we believe we have created an excellent range of choices that should be on top of the consumers' list when they set out to buy a permanent-installation projector," concluded Maruyama.

Editor's Note:
Best known by its Panasonic brand name, Matsushita Electric Industrial Co., Ltd. is a worldwide leader in the development and manufacture of electronic products for a wide range of consumer, business, and industrial needs. Based in Osaka, Japan, the company recorded consolidated net sales of US$77.19 billion for the year ended March 31, 2007. The company's shares are listed on the Tokyo, Osaka, Nagoya and New York (NYSE:MC) stock exchanges. For more information on the company and the Panasonic brand, visit the company's website at panasonic.net. Panasonic Gulf FZE (PGF) is MEI's first subsidiary company in the Middle East, followed by Panasonic Marketing Middle East FZE (PMM), which is the regional marketing headquarters of MEI for operations in the Middle East and African countries.

For further information, please contact:
Ajit Nair
Corporate Communications Department
Panasonic Marketing Middle East FZE
P.O.Box 17985, Jebel Ali, Dubai, UAE
Tel: +971 4 8819880
Fax: +971 4 8814311
Web site: panasonic.co.ae

More from Electrical Equipment & Systems