Projector Light Control System enhances color reproduction.
Press Release Summary: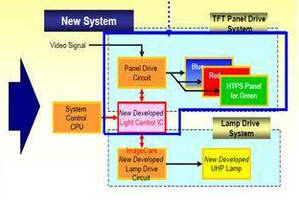 Intended for 3LCD projectors, light control system uses Epson high-temperature polysilicon (HTPS) TFT LCD drive technology and Philips' lamp technology for optimal performance regarding projector image contrast and energy consumption. System is comprised of projector lamp and lamp drive circuits. Optimal image quality and color reproduction is achieved by automatic adjustment, in real-time, of white balance deviations that occur due to changes in lamp power.
---
Original Press Release:

Epson Announces Projector Light Control System with Major Performance Gains Jointly-Developed with Philips



- Contrast improved by approx. 500% and energy consumption reduced up to half -

- TOKYO, Japan -Seiko Epson Corporation ("Epson", TSE: 6724) today announced it has collaborated with Royal Philips Electronics, Inc. ("Philips", NYSE: PHG, AEX: PHI) on core modules for projectors to develop a new light control system for 3LCD projectors. The new system uses Epson's high-temperature polysilicon ("HTPS") TFT LCD drive technology and Philips' lamp technology, and achieves improvements in both projector image contrast and energy consumption. The two companies are now shipping samples of the new system to projector manufacturers.

In recent times, projectors for both business and home have faced increasing demands for improvements in core projector capabilities such as image quality, contrast, brightness, and low energy consumption and the new system was designed to meet these requirements.

The new light control system comprises a projector lamp and lamp drive circuits and is compatible with Philips' ImageCare*1 lamp control technology and Epson's HTPS panel light control technology, which makes use of Epson's long experience of developing HTPS panel driving technologies, achieving high image quality and superb color reproduction by automatically adjusting in real time the white balance deviations that occur due to changes in lamp power. Based on the results of image analysis performed by Epson's panel drive circuits, lamp drive circuits compatible with Philips' ImageCare continually adjust the lamp brightness according to the image being projected. The combination of the two companies' technologies have resulted in a light control system that improves contrast by approximately 500% and energy consumption by up to half compared to conventional systems used in 3LCD projectors*2.

"We have been able to realize the new system by combining the HTPS technology we have developed over the years and Philips' excellent lamp technology," said Nobuyuki Shimotome, chief operating officer of Epson's TFT Operations Division. "I am convinced this system meets projector market demands for high quality and environmentally-conscious products. Epson's TFT business continues to contribute to the development of the projector market both through innovations in HTPS technology and by optimizing the advantages of optical systems."

"Based upon a deep understanding of customers and end-users, Philips believes that innovations in UHP*3 lamp systems can meet market needs such as long lamp life and energy saving," said Peter van Berkel, chief executive officer of Philips Digital Projection Lighting. "ImageCare technology is based on the successful and much admired UHP system, and meets urgent and basic requirements that exist in the mainstream projector market. This is a superb example of how we have developed meaningful solutions for end-users by combining Epson's state-of-the-art HTPS panel systems with our advanced technologies."

Both Epson and Philips plan to sell the core modules they have developed. The new system is compatible with all Epson HTPS panels currently being supplied to projector manufacturers.

With over 20 years of experience in meeting projector market demands for superior image quality and high contrast, Epson has leading share in the market for core projector devices*4. Epson will continue to develop HTPS panels as it seeks to provide improved added value solutions for projectors.

Glossary
*1: ImageCare is a trademark of Royal Philips Electronics.
*2: According to results of an experiment comparing a projector using a conventional Epson LCD panel drive system with one using the light control system assembled with the Philips lamp drive system (Epson research). The result will vary according to the specifications of the projector manufacturer.
*3: UHP (Ultra High Performance) is a trademark of Royal Philips Electronics, registered in the Netherlands and/or other countries.
*4: According to Epson research (April 2010)

To learn more about HTPS panels:
http://www.epson.jp/e/products/device/htps/

To learn more about Philips digital projection lighting:
http://www.philips.com/dpl

About Epson
Epson is a global imaging and innovation leader that is dedicated to exceeding the vision of customers worldwide through its compact, energy-saving, high-precision technologies, with a product lineup ranging from printers and 3LCD projectors for business and the home, to electronic and crystal devices.

Led by the Japan-based Seiko Epson Corporation, the Epson Group comprises over 70,000 employees in 106 companies around the world, and is proud of its ongoing contributions to the global environment and the communities in which it operates. http://global.epson.com/

Contact:
Alastair Bourne
Seiko Epson Corp.
Contact us by e-mail

About Royal Philips Electronics
Royal Philips Electronics of the Netherlands (NYSE: PHG, AEX: PHI) is a diversified Health and Well-being company, focused on improving people's lives through timely innovations. As a world leader in healthcare, lifestyle and lighting, Philips integrates technologies and design into people-centric solutions, based on fundamental customer insights and the brand promise of "sense and simplicity". Headquartered in the Netherlands, Philips employs approximately 116,000 employees in more than 60 countries worldwide. With sales of EUR 23 billion in 2009, the company is a market leader in cardiac care, acute care and home healthcare, energy efficient lighting solutions and new lighting applications, as well as lifestyle products for personal well-being and pleasure with strong leadership positions in flat TV, male shaving and grooming, portable entertainment and oral healthcare. News from Philips is located at http://www.newscenter.philips.com/

More from Fasteners & Hardware