Projected Capacitive Touchpanels replace resistive models.
Press Release Summary: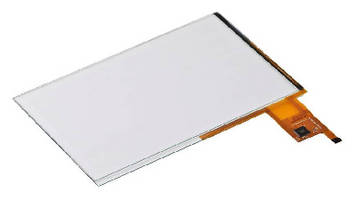 Intended for medical technology and industrial HMI applications, Evervision IPCT Improved Projected Capacitive Touchpanels range in size from 3.5–10.2 in. with surface hardness of 7 H and 85% transparency. Units detect up to 5 fingers and include I²C interface. Allowing touch recognition through glass surface mounted on top of display, projected capacitive touch technology is resistant to scratches, moisture, and impurities and allows cleansing and disinfection with almost all agents.
---
Original Press Release:

New Competitive IPCT Projected Capacitive Touchpanel



Replace industrial and medical resistive Touch by state-of-the-art Projected Capacitive Touch



Gilching, Bavaria, Germany, and Karlsruhe, Germany



Sophisticated displays for medical technology and industrial electronics applications require high quality state-of-the-art Touchpanel solutions by a reasonable pricing. Display Solution is pleased to annouce the availability of the new Evervision IPCT Touchpanel product line which specifically addresses customers and manufacturers on the way to jump in modern cost-effectively Projected Capacitive Touch technology also for customized small order quantities with long term availability.



IPCT (Improved Projected Capacitive Touchpanel) key benefits compared to conventional PCT solutions are  mainly economic aspects. Additional advantage is the independence regarding key account customer production like for consumer displays. Evervision provides IPCT small and medium sized touchpanel quantity ranges and minimum purchases at a production lot size of just 300 units for professional applications.



The favourable price/performance ratio of EVERVISION's IPCT touch panel is achieved by using raw materials and production processes that are also applied in LCD manufacturing. This is a benefit also for fully customized solutions which can be realized at feasible tool costs. Due to mechanical dimensions that are identical with the existing resistive touch panel standard, IPCT touch panels can be integrated into current projects in the course of a redesign without the need to modify the enclosure.



EVERVISION offers IPCT in sizes from 3.5" up to 10.2" already mounted ex works on the corresponding EVERVISION TFT displays. The IPCT touch panel comes with a durable surface hardness of 7H, reliably detects up to five fingers and is neither sensitive to detergents nor to disinfectants. Its transparency is 85 percent. Further characteristics are an I²C interface (USB in Q1/2013) and a chip-on-flex structure.



About Projected Capacitive Touch Technology

Projected capacitive touch technology allows touch recognition through a glass surface mounted on top of the display. Its resistance to scratches, moisture and impurities makes it an ideal solution also for outdoor applications. The IPCT touch panel's glass surface allows cleansing and disinfection with almost all agents.



Applications

The wide range of possible applications with IPCT touch panels ranges from industrial HMI (Human Machine Interface) like construction machinery and agricultural vehicles to sensitive applications like access control, measurement and especially medical technology.



For more information, please visit www.display-solution.com or www.evervisionlcd.de .



About Display Solution AG

Display Solution, based in Gilching, Bavaria, Germany, is a leading developer and marketer of customized LCD solutions for existing and future markets, combining leading-edge screen and electronic technologies. Products range from single components to complete system solutions built around TFT displays for commercial and industrial use with application in such areas as digital signage, point-of-sale, point-of-information, automation, measurement engineering, medical instruments, and other mobile and embedded applications.

www.display-solution.com/en



About Evervision Electronics Europe

EVERVISION ELECTRONICS LTD is a Taiwanese manufacturer for high quality standard and semi-customized industrial TFT displays. Due to the capabilities from customized mono LCD and LCM business, EVERVISION is able to provide customization on TFT displays starting from 1kpcs per lot. With two factories in China and 1600 employees, EVERISION has got the right capacity and flexibility to meet the requirements for sophisticated TFT projects in industrial countries. EVERVISION has a branch office in Germany for local technical service and is represented by specialized pan-European and local display distributors.

www.evervisionlcd.de



Trademarks are the property of the respective parties.



Press Contact

Doris Froitzheim

Marketing Communication at Display Solution

dfroitzheim@display-solution.com

+49 +89 (0)8105 73403-12

More from Software