Progressing Cavity Pumps offer application versatility.
Press Release Summary: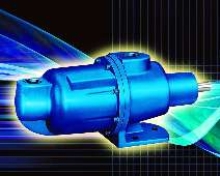 Available in motorized and non-motorized models, Series 300 handles clear liquids as well as viscous, corrosive fluids. Non-motorized units enable end user to choose means by which pump is powered, whether with gear motor or belt drive. Featuring fully molded wobble stator, self-priming units produce non-pulsating flow, which remains steady under variations in suction head. They offer capacities to 15 gpm, pressures to 150 psi, and handle fluid temperatures to 210°F.
---
Original Press Release:

Moyno® 300 Series Pump Line Offers Application Versatility


Springfield, Ohio - The Moyno® 300 Series Non-Motorized Pump is a cost-effective, compact sized pump that offers significant application versatility. These general utility, progressing cavity pumps, also available in motorized versions, provide dependable performance and long life in handling a wide variety of fluids from glue to jet fuel and swimming pool drainage.

The Moyno 300 Series Pump handles clear liquids as well as viscous, corrosive fluids. The non-motorized model allows the end user to choose the means by which the pump is powered, whether with a gear motor or a belt drive configuration.

This Moyno product features a unique, fully-molded "wobble" stator. This design increases the compression fit during operation between rotor and stator, resulting in improved pumping performance. Moyno 300 Series Pumps are self-priming with a non-pulsating, low-shear flow which remains steady even under wide variations in suction head.

The Moyno 300 Series Pumps offer:
- Capacities to 15 GPM
- Pressures to 150 PSI
- Interchangeable rotors and stators
- Fluid temperature range to 210º F
- Packing gland or mechanical seal options
- Easy disassembly

Moyno, Inc. is a leading manufacturer and marketer of Moyno progressing cavity pumps, multiphase fluid transfer systems, grinders and controls. It has an extensive worldwide stocking distribution network that serves a wide range of industries including water and wastewater treatment, pulp and paper, chemical, food, pharmaceutical, mining, petrochemical and oil and gas recovery. Moyno, Inc. is a unit of Robbins & Myers, Inc.