Programming System accommodates up to 12 programmers.
Press Release Summary: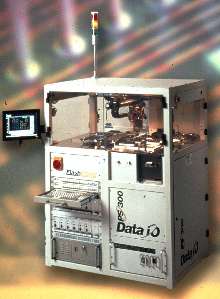 Series P300FC(TM) automated programming system features FlashCORE(TM) technology. It is designed to program high density Flash Memory devices at near theoretical minimum times. System supports standard 4-socket adapters used by ProLINE-RoadRunner(TM) and FlashPAK(TM) programmers. It brings benefits of network control and advanced programming architecture to automated Flash programming environments, assuring that programming is current, secure, traceable, and failsafe.
---
Original Press Release:

Data I/O® Corporation Introduces the PS300FC Networked Automated Programming System for Flash Memory


Redmond, WA, September 3, 2002 - Data I/O Corporation (NASDAQ:DAIO), a leading provider of advanced programming systems, has integrated its highly acclaimed FlashCORE(TM) programming technology into its popular PS300 Series automated
programming system. Appropriately named the PS300FC(TM), the new system is designed to program high-density Flash Memory devices at near theoretical minimum times and at the industry's lowest programming cost per part.

The PS300FC automated programming system accommodates up to twelve programmers (up to 48 programming sites), surpassing any throughput currently available. Combining FlashCORE programmers with a high-speed handler produces a machine designed specifically for Flash memory applications, and has a unique architecture that delivers the lowest programming cost for high-density Flash devices. This is accomplished by a combination of exceptional programming speed, reliable handler platform, system
scalability, and software-based process control.

Moreover, because the new system supports the standard four-socket adapters used by Data I/O's ProLINE-RoadRunner(TM) and FlashPAK(TM) programmers, users will benefit from easy interoperability.

Programmer upgrade kits are available that enable existing PP or PS Series programming systems to be field retrofitted with the FlashCORE technology, that install alongside existing Optima programmers.

"The PS300FC answers the real business needs of our customers, offering them the highest programming flexibility and the lowest possible programming cost," said Mark Briant, Data I/O Product Manager for Automated Systems. "Because the PS300 is expandable, inexpensive, and now available with specialized equipment for fast Flash device programming, it will enable customers to operate leaner at lower programming quantities and more efficiently at higher quantities." He continued, "Based on the same architecture used by Data I/O's ProLINE-RoadRunner, the world's most advanced inline programming system, the PS300FC programs the leading Flash Memory devices at near theoretical minimum programming times. "

Costs are driven even lower by using the efficiencies of network control for firmware distribution and revision. For example, programming center managers will be able to streamline first article qualification and distribution of jobs, globally, reducing their variable costs. OEM managers will gain control of their intellectual property as it moves from design to production, and prevent disruptions associated with outdated firmware. In addition, production managers will value the FlashCORE upgrade for its ability to program large Flash devices at the speed of silicon.

The new system brings the benefits of network control and advanced programming architecture to automated Flash programming environments, assuring that programming is current, secure, traceable and failsafe. For example, integrated with Data I/O's
FlashPAK programmers, the PS300FC becomes part of an end-to-end, networked programming solution that ensures the same, current programming algorithm and adapter are used at each step of product development and production.

About Data I/O
Celebrating 30 years of innovative leadership in the device programming industry, Data I/O Corporation (NASDAQ:DAIO) provides manual and automated device programming systems that specifically address the requirements of engineering and manufacturing customers. By combining leading edge technology and a deep understanding of our customers' business processes, Data I/O is creating systems that dramatically improve Return On Investments. Examples include the world's fastest and most cost effective inline and manual Flash programming solutions, the ProLINE-RoadRunner(TM) and FlashPAK(TM) Networked Programming System. The company's Connected Programming Strategy optimizes programming from design through manufacturing by creating a networked solution that connects engineering to manufacturing, business processes to business systems, and the firmware supply chain to its users. Data I/O Corporation is headquartered in Redmond, Washington, and has sales and service offices worldwide.

For more information. To receive more information on the PS300FC or any Data I/O programming system, visit www.dataio.com or contact:

Data I/O Corporation
10525 Willows Road NE
Redmond, WA 98073
Toll Free: 800.332.8246
Phone: 425.881.6444
Fax: 425.882.3211
Email: info@dataio.com

Media Contacts:
Jeff Kenyon
Vice President
Goldstein Group Communications
jkenyon@ggcomm.com
216.573.2300

Mark Briant
Product Manager, Automated Systems.
Data I/O Corporation
briantm@data-io.com
800.332.8246

More from Electronic Components & Devices