Programmable Timer dispenses food, liquids, or chemicals.
Press Release Summary: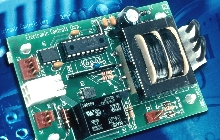 Super Teachme Model 2831 electronic timer has 2 programmable timing ranges with span of 0.05 sec to 54 min, timing resolution of 0.05 sec, and repeatability of 0.10 sec. Operation requires selecting desired timer range using SPST switch and pressing start button. Start button can be connected to AC power line for 110/220V activation or directly to board for low-voltage. Timer measures 3.6 x 2.35 x 1.5 in.
---
Original Press Release:

Selco Introduces Dual-Range Programmable Electronic Timer for Maximum Accuracy and Flexibility in Food and Liquid Dispensing


ORANGE, Calif. - March 5, 2002 - Selco Products Company has introduced the Super Teachme Timer (Model 2831), a dual-range programmable timer ideal for food and liquid dispensing. A wide range of applications for the Super Teachme Timer includes coffee brewing, cheese dispensing, and chemical dispensing or any application where timer control is required.

Easy to program and operate, the Super Teachme Timer features two timing ranges that can be quickly programmed. For example, the user can simply fill a sample glass of liquid to the desired level and the timer stores the interval. Two timing intervals are stored in onboard memory, even in the event of a power outage, until reprogrammed.

Once a time is programmed, operation simply requires selecting the desired timer range using a SPST switch and pressing the start button. The start button can be connected to an AC power line for 110/220V activation or directly to the board for low-voltage.

The selected timer range will run for the programmed time period, then stop automatically. An optional panel-mount LED indicates that dispensing is in progress. Moving the timing select switch to the desired timer position and pressing the start button is all that is required to activate the second timing value.

"The new Super Teachme Timer is an outstanding companion to our highly successful, single-range Teachme Timer," said Russell Kido, Selco Product Manager. "Its capacity to handle two temperature settings, simplicity of operation, and wide timing range offer significant benefits to customers in a wide array of applications."

Input power for the Super Teachme timer is 110/220 VAC 50/60 Hz, selectable either as a factory setting or via jumper settings in the field. Timing range is .05 seconds to 54 minutes with timing resolution of .05 seconds and repeatability of .10 seconds. Maximum operating temperature is 158 deg F. Physical dimensions of the timer are 3.6" x 2.35" x 1.5".

This highly versatile timer is designed as a plug-in replacement for the Selco Products single-range Teachme Timer (Model 2577) for retrofitting and upgrading of existing installations. In addition, due to the flexibility of its microprocessor-based control system design, it can be reprogrammed to use the onboard circuitry for other similar timer applications with engineering assistance available from Selco/ECC.

For further information on the entire line of Selco thermostats, temperature control products, knobs, functional controllers, and digital and analog meters, contact Selco Products Company, 709 N. Poplar Street, Orange, Calif., 92868; Toll-Free: (800) 229-2332; Fax: 714-712-6222; E-mail: sales@selcoproducts.com; Web site: www.selcoproducts.com.

For additional photo formats including b/w prints or electronic files of the attached slide image, please contact, J2 Marketing Services at (714) 529-2527 or e-mail: cynthia_guardia@j2marketing.com.

More from Agricultural & Farming Products