Programmable RF Transceiver features 135 dBm link budget.
Press Release Summary: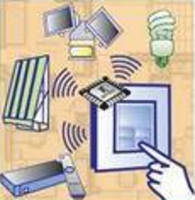 Intended for applications using ISM frequency band, SX1231 operates from 290-1,020 MHz and can be programmed between narrow- and wide-band communications modes without modifying external components. Its 16 mA receive current and 33 mA transmit current extend battery life, and integrated packet engine offloads RF packetization from MCU and provides CRC error checking, AES-128 encryption, and 66-byte FIFO. SAW filter functionality, VCO tank, PLL loop filter, and RF switch are integrated.
---
Original Press Release:

New Semtech Low-Power Transceiver Platform Showcases Best Link Budget and RF Robustness 290-1020 MHz Transceiver Reduces Costs of ISM-Band RF Designs



SX1231 has 135dB Link Budget; Integrates Most Passive Components into Cost-Effective Design

Camarillo, California - Semtech Corp. (Nasdaq: SMTC), a leading supplier of analog and mixed-signal semiconductors, today announced the SX1231, a programmable radio frequency (RF) transceiver with market-leading sensitivity that is the latest in the company's low-power transceiver platform. The SX1231 provides a cost-effective solution for wireless applications using the industrial, scientific and medical (ISM) frequency band like automated meter reading and home/building automation systems. The transceiver features a 135dBm link budget that is 10 dB more than competing devices. The part reduces system operations cost through its low 16mA receive current and 33mA transmit current which delivers longer battery life. The highly integrated transceiver uses Semtech's TrueRF(TM) technology to integrate SAW filter functionality; the device also integrates the VCO tank, PLL loop filter and an RF switch to minimize external components.

The frequency range of the SX1231 is 290 MHz-1020MHz, which includes the 433, 868 and 915 MHz license-free ISM frequency bands. The device features an integrated packet engine that offloads RF packetization from a microcontroller, freeing up this resource or allowing a designer to choose a lower cost or lower power alternative. The packet engine provides CRC error checking, AES-128 encryption and a 66-byte FIFO. The output power of the SX1231 is programmable in 1 dB steps from -18dBm to +17 dBm. The transceiver is unique in that it can be programmed between narrow-band and wide-band communications modes without the need to modify external components. The transceiver operates with GFSK, MSK, FSK, OOK, ASK modulations types up to 300kbps with constant RF performance over the 1.8V - 3.7V power supply range. It also features market-leading immunity to out-of-band interferers with 80dB of blocking immunity and a self adaptive IIP3 from -18dBm to 8dBm and +35dBm IIP2 response.

"Lower-cost ISM systems can spur new applications and markets. The SX1231 eliminates most of the passive components and the RF switch from designs, driving down the BOM costs without a sacrifice in performance," said Marc Pégulu, Industrial Analog Product Line Manager for Semtech. "The SX1231 completes Semtech's portfolio of ultra low power RF transceivers by offering the market breakthrough radio technology for sub-gigahertz applications seeking for high range and reliable communication."

The SX1231 is certified for worldwide regulations including the European (ETSI EN 300-220-1), the North American (FCC part 15) and Korea&Japan ARIB regulatory standards. The 5mm x 5mm SX1231 (QFN 24) offers designers the benefit of significant board space savings, and its small size and RoHS & WEEE compliance also contributes to energy conservation and hazardous waste reduction.

Key Features of the SX1231

High Sensitivity: down to -120 dBm at 1.2 kbps

High Selectivity: 16-tap FIR Channel Filter

Bullet-proof front end: IIP3 = -18 dBm at highest LNA gain and >5dBm at lowest LNA gain, IIP2 = +35 dBm, 80 dB Blocking Immunity, no Image Frequency response

Low current: Rx = 16 mA, Tx = 33 mA @ +10 dBm, 200nA register retention

Programmable RF output power: -18 to +17 dBm

Constant RF performance over voltage range of chip

FSK Bit rates up to 300 kb/s

FSK, GFSK, MSK, GMSK and OOK modulations

Packet engine with CRC, AES-128 encryption and 66-byte FIFO

Pricing and Availability
The SX1231 (order code: SX1231IMLTRT) is available immediately in production quantities and is priced at $1.88 each in 3,000-piece lots. Semtech offers comprehensive design assistance, including field- and factory-based support. Data sheets, volume pricing, and delivery quotes, as well as evaluation kits and samples, are available by contacting info@semtech.com.

About Semtech
Semtech Corporation is a leading supplier of analog and mixed-signal semiconductors for high-end consumer, computing, communications and industrial equipment. Products are designed to benefit the engineering community as well as the global community. The company is dedicated to reducing the impact it, and its products, have on the environment. Internal green programs seek to reduce waste through material and manufacturing control, use of green technology and designing for resource reduction. Publicly traded since 1967, Semtech is listed on the NASDAQ Global Select Market under the symbol SMTC. For more information, visit www.semtech.com.


More from Electronic Components & Devices