Programmable Resistor Ladder Modules feature sense lead equipped channels.
Press Release Summary: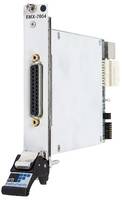 Suitable for simulation of resistance-based sensors, process control and ATE calibration devices, EMX-70XX Programmable Resistor Ladder Modules are available in EMX-7004, EMX-7005, EMX-7006, and EMX-7007 models. Featuring programmable setting range from 163 kΩ to 16,383 MΩ, units offer ≤ ±25 μV thermal offset and 0.5 W power rating for each channel. EMX-7004 module provides ±0.02% accuracy and 1 Ω to 16,383 Ω resistance range.
---
Original Press Release:
EMX- 70XX Series PXIe Precision Programmable Resistor Ladder Modules Provide Four Independent Resistor Channels
AMETEK VTI Instruments (www.vtiinstruments.com) today announced the introduction of its EMX-70XX Series of Precision Programmable Resistor Ladder Modules, the latest addition to its family of PXI Express (PXIe) functional test solutions.
As part of the EMX family of products, these modules can be mixed and matched with other EMX series modules to configure high-density measurement and switching systems. The EMX-70XX Series is designed for such applications as precision simulation of RTDs and other resistance-based sensors; process control; ATE calibration; controlled loading of devices under test (DUTs); and potentiometer simulation.
All of the modules in the EMX-70XX Series can provide four independent channels of programmable resistors, with four decades per channel. Each channel is equipped with its own sense leads for feedback.
The EMX-7004 module is designed to deliver exceptional stability and accuracy (up to ±0.02% of programmed value ±0.5 Ω) for any resistance value from 1 Ω to 16,383 Ω. It can be adjusted in 1 Ω increments, either through the software application programming interface (API) or the dynamic soft front panel provided.
The EMX-7005, EMX-7006, and EMX-7007 modules are optimized for applications requiring higher resistance values, with programmable settings ranging from 163 kΩ to 16,383 MΩ. All four cards offer a 0.5 W power rating and low thermal offset (≤ ±25 μV). IVI-COM, IVI-C, and LabVIEW™ drivers for the modules are included. The EMX-7014, EMX-7015, and EMX-7016 are available for general purpose applications with less stringent accuracy requirements.
"The EMX-70XX Series is designed for easy configurability. Two or four channels can be tied together and programmed to operate as a potentiometer. They also support both parallel and series operation. Two or more channels can be connected in parallel for increased accuracy and to reduce the step size, or, if preferred, two or more channels can be connected in series to increase the range," notes Jon Semancik, Product Line Manager for VTI Instruments.
For More Information To access images, data, and specifications and to create a quote online, visit http://www.vtiinstruments.com/Products-Services/EMX-7004.aspx. Contact VTI Instruments directly at 949.955.1894 or vti.sales@ametek.com.
About VTI Instruments
VTI Instruments, a unit of AMETEK Programmable Power, delivers precision modular instrumentation and systems for electronic signal distribution, acquisition, and monitoring for the world's most-demanding test applications. Its products and systems monitor and record data that characterizes the physical integrity and performance of aircraft, engines, and other large structures, as well as automate the functional testing of complex electronic systems.
VTI is recognized as an industry leader with a reputation of providing reliable data, first time, every time. A sustained focus on innovation and technology enables VTIs customers to optimize their capital investment through product longevity, while ensuring unmatched measurement integrity and data reliability.
About AMETEK Programmable Power
AMETEK Programmable Power designs, manufactures and markets precision, AC and DC programmable power supplies, electronic loads, application specific power subsystems, and compliance test solutions for customers requiring and valuing differentiated power products and services. It offers one of the industry's broadest portfolios of programmable power products under the California Instruments, Sorensen, and Elgar brands.
AMETEK Programmable Power is a business unit of the AMETEK Electronic Instruments Group, a leader in advanced instruments for the process, aerospace, power, and industrial markets and a division of AMETEK, Inc., a leading global manufacturer of electronic instruments and electromechanical devices with 2016 annual sales of approximately $4.0 billion.
Media Contact
Craig Frahm
Tel: (858) 678-4459
E-mail: craig.frahm@ametek.com
Website: www.programmablepower.com
More from Construction Equipment and Supplies