Programmable Relay handles up to 60 I/O.
Press Release Summary: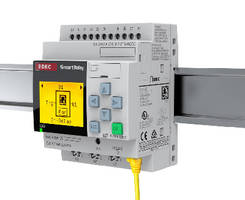 Suited for small- to medium-sized OEM machine control applications, FL1F SmartRelay features built-in web server for browser-based remote access from smartphone, tablet, or PC. CPU module has 8 discrete inputs and 4 discrete outputs. Up to 12 I/O expansion modules can be added to CPU, expanding I/O capacity to 60 I/O. LCD operator interface can display 6 lines, each with up to 20 characters, and up to 20,000 data sets can be logged and stored to Micro SD card.
---
Original Press Release:

IDEC Releases FL1F SmartRelay



New relay handles up to 60 I/O, and has built-in web server for convenient browser-based remote access from any smartphone, tablet or PC.



IDEC Corporation, Sunnyvale, CA, – IDEC Corporation announces the FL1F SmartRelay, a substantial upgrade to their previous FL1E model. Responding to market demand for a programmable relay with many of the features found in micro PLCs, the FL1F SmartRelay can now accommodate small- to medium-sized OEM machine control and other applications.



The FL1F SmartRelay CPU module has 8 discrete inputs and 4 discrete outputs. There are six types of I/O expansion modules, and up to 12 I/O expansion modules can be added to the CPU, expanding the I/O capacity to 60 I/O. Maximum configurations are 24 discrete inputs, 20 discrete outputs, 8 analog inputs and 8 analog outputs. Each discrete output can switch up to 10 A.



These I/O points are monitored and controlled through the use of FL1F SmartRelay's expanded programming capacity with a maximum 400 function blocks. In addition to a host of industry standard function blocks, five new types are supported: astronomical clock, analog filter, maximum and minimum, average and stop watch.



The FL1F SmartRelay has a new and improved LCD operator interface which can display 6 lines, each with up to 20 characters. Selectable white, amber or red backlighting allows operators to easily distinguish alarm and alert status at a distance. An external Text Display Panel, which mimics the CPU display, is also available to provide an additional operator interface point.



These displays are used for two main purposes: displaying operator interface information and controlling the machine or process, and programming the unit. Although the FL1F SmartRelay can be fully programmed from either the local or remote display, a more common approach is to program the unit using the supplied WindLGC version 8 PC-based software. This software allows development and editing of three programs at the same time, and supports drag and drop operations to reduce development time.



The FL1F SmartRelay's Ethernet port can be used to connect to:

• PC for programming

• Text Display panel

• Other FL1F controllers

• Internet for remote monitoring



The Text Display Panel has two Ethernet ports. The first is used to connect to the FL1F SmartRelay CPU, while the second can be used to make the same types of connection as the CPU module.



When connected to the Internet for remote monitoring through either the CPU module or the Text Display Panel, access to the FL1F SmartRelay's integrated web server is activated. The integrated web server is simple to configure via menus provided in the programming software, with no HTML programming knowledge required. Access is allowed from any web browser and is password protected. This two-way access allows for both viewing of data, and for changes to parameters and programs.



Up to 20,000 data sets can be logged and stored to a Micro SD card. This card can also be used for program storage, and for transfer of program data from one controller to another. The FL1F SmartRelay offers improved Real Time Clock backup with up to 480 hours of internal buffering, and settings of power-up time and the status of the LCD screen at the time of power-up can now be customized.



For complete specifications or additional information on the FL1F SmartRelay, please contact IDEC Corporation at 800-262-IDEC (4332), or visit us online at www.IDEC.com/smartrelay.



About IDEC: Headquartered in Osaka, Japan, IDEC Corporation is a global manufacturer known worldwide for over sixty-five years for its reliable control and automation products. In the United States, IDEC has over thirty local sales offices to assist customers with choosing the right switches, relays, power supplies, PLCs, O/Is, sensors and more. A leader in the industry, IDEC produces only the highest quality products. For additional information, visit www.IDEC.com/usa

Related