Programmable Logic Controllers
Programmable Logic Controller integrates I/O.
Press Release Summary: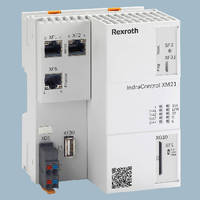 Integrating IndraControl S20 input/output series, IndraControl XM21/22 PLC is available with Intel® 600 or 1,300 MHz Atom processor, along with onboard Sercos master featuring cycle time of 250 µs. Decentralized I/Os, drives, and additional system machinery are connected via Ethernet-based Sercos as universal automation bus for system-wide networking. Suited for factory automation and motion logic applications, PLC features real-time data processing capabilities.
---
Original Press Release:

Rexroth IndraControl XM21/22 Programmable Logic Controller Integrates I/O for Speed, Flexibility



New control hardware combines the speed of the Sercos automation bus with Rexroth's IndraControl S20 I/O series into one functionally complete and modular control system.



Easy and flexible system configuration with modular I/O expansion

High-performance data processing

Scalable firmware for motion logic applications



Bosch Rexroth's IndraControl XM21/22 programmable logic controller (PLC) combines the speed of the Sercos automation bus with Rexroth's IndraControl S20 input/output (I/O) series for one functionally complete and scalable control system.



Ideal for all factory automation and motion logic applications, the IndraControl XM platform is easy to configure and features high-performance real-time data processing capabilities. The controller is available with either an Intel® 600 or 1,300 MHz ATOM processor, along with an onboard Sercos master featuring a cycle time of 250 µs.



By integrating the company's modular IndraControl S20 I/O series into the controller, Rexroth adds to the flexibility of the control system. Optional extension modules further expand the integration options, while a service-friendly design reduces installation costs.



Decentralized I/Os, drives and additional system machinery are connected via Ethernet-based Sercos as a universal automation bus for system-wide networking. Enhancing the scalability, the XM controller uses Rexroth's standard IndraMotion MLC system firmware for motion logic applications.



Compatible with a wide range of control topologies, Rexroth's IndraControl S20 I/O units feature short module reaction times of 1 µs per module for efficient production cycles and real-time signal processing of measuring systems and intelligent sensors, even under extreme conditions.



Intel is a trademark of Intel Corporation in the U.S. and/or other countries.



About Bosch Rexroth:  

Economical, precise, safe, and energy efficient: drive and control technology from Bosch Rexroth moves machines and systems of any size. The company bundles global application experience in the market segments of Mobile Applications, Machinery Applications and Engineering, Factory Automation, and Renewable Energies to develop innovative components as well as tailored system solutions and services. Bosch Rexroth offers its customers hydraulics, electric drives and controls, gear technology, and linear motion and assembly technology all from one source. With locations in over 80 countries, roughly 36,700 associates generated sales revenue of approximately 5.7 billion euros ($7.6 billion) in 2013. To learn more, please visit www.boschrexroth-us.com



About Bosch:

The Bosch Group is a leading global supplier of technology and services. In 2013, its roughly 281,000 associates generated sales of 46.1 billion euros ($61.2 billion.) (NB: Due to a change in accounting policies, the 2013 figures can only be compared to a limited extent with the 2012 figures). Its operations are divided into four business sectors: Mobility Solutions, Industrial Technology, Consumer Goods, and Energy and Building Technology. The Bosch Group comprises Robert Bosch GmbH and its roughly 360 subsidiaries and regional companies in some 50 countries. If its sales and service partners are included, then Bosch is represented in roughly 150 countries. This worldwide development, manufacturing, and sales network is the foundation for further growth. In 2013, the Bosch Group invested some 4.5 billion euros in research and development and applied for some 5,000 patents. This is an average of 20 patents per day. The Bosch Group's products and services are designed to fascinate, and to improve the quality of life by providing solutions which are both innovative and beneficial. In this way, the company offers technology worldwide that is "Invented for life." Additional information is available online at www.bosch.com, www.bosch-press.com and http://twitter.com/BoschPresse



In the U.S., Canada and Mexico, the Bosch Group manufactures and markets automotive original equipment and aftermarket products, industrial drives and control technology, power tools, security and communication systems, packaging technology, thermotechnology, household appliances, healthcare telemedicine and software solutions. For more information, please visit www.boschusa.com,  www.bosch.com.mx  and www.bosch.ca



Contact for Journalists:

Bosch Rexroth Corporation

Susan Strauss

2315 City Line Road

Bethlehem, PA 18017

Telephone (610) 694-8352

Fax (610) 694-8352

susan.strauss@boschrexroth-us.com

More from Software