Programmable Electric Cylinder measures 12 mm in diameter.
Press Release Summary: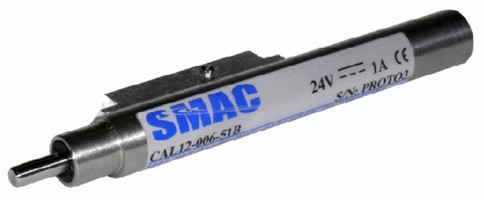 Featuring stroke length of 10 mm, CAL12 series electric actuators deliver precise, repeatable force control and positioning. Cylinder acceleration up to 10 G can be achieved, and life expectancy is rate at over 100-million cycles min. Manufactured from stainless steel with minimum wall thickness of 1.5 mm, actuators are based on SMAC moving coil actuator technology and offered with force ranges from 0.2-2 N. Encoder resolutions range from 5 microns down to 100 nm.
---
Original Press Release:

Compact yet Robust, New Programmable Electric Cylinder is Only 12mm in Diameter



Carlsbad, California: SMAC Inc is launching its new CAL12 series of electric actuators. The CAL12 series have 12mm diameter with a stroke length of 10mm. They have been designed to offer a long life cycle and much more precise & repeatable force control and positioning, and are the first linear motors to challenge conventional LVDT devices.

The CAL12 series are compact yet robust; they are manufactured from high-grade stainless steel with a minimum wall thickness of 1.5mm. Due to the innovative design and construction, cylinder acceleration of up to 10G's can be achieved, and they have been designed to offer a life expectancy of circa 100 million+ cycles as a minimum.

The actuators are based on proprietary SMAC moving coil actuator (MCA) technology which is covered by multiple patent applications. They are offered with minimum force of 0.2N and maximum force of 2N, and a choice of encoder resolutions from 5 micron down to 100 nanometer to satisfy a variety of industrial, scientific, motion control & QC / measuring applications.

As with all SMAC actuators, the CAL12 series have the unique ability to enable free and independent control of velocity, position and force simultaneously. Further to this, the SMAC patented "Soft-Land" function is incorporated to allow delicate & controlled force when landing on fragile components. This also allows indexing and establishing a datum by finding the surface of the part and setting that point to zero. Therefore, the set up & re-calibration is easy and simple.

The CAL12 series also give 100% data feedback of all operations as standard. Due to these unique features, no external switches or sensors are required to detect cylinder movement or position. This enables a radical reduction of any external wiring and significantly reduces cost. The electric cylinders also have a low power consumption of 1.8 Amps & 24 Volts, making them highly energy efficient. Competitive price starts from US$750.00 with 5 micron encoder as standard.

SMAC Inc is the world leader in Moving Coil Actuators and associated control systems. Headquartered in Carlsbad, California USA with subsidiaries throughout the North America, Europe, Asia & Japan. SMAC delivers high tech solutions to industry with single & multi axes linear, linear/rotary actuators, integrated XY & XYZ stages, positioning stages and electronic control solutions.

Related