Programmable Controller remotely monitors boilers.
Press Release Summary: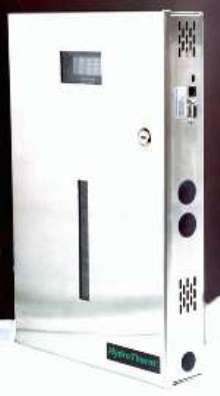 Model S1000B features 16 inputs permitting addition of temperature sensors and prove switches. Data logging feature records information such as water temperature, number of cycles, sequences, and run times of boiler modules and circulator pumps. Users can view and monitor system, download data logs, and change system settings from remote locations through password-protected access on web. Featuring VFD display, unit comes in corrosion-resistant, stainless steel enclosure.
---
Original Press Release:

New Hydrotherm S1000B Programmable Controller Provides 24/7 Boiler Room Monitoring and Control


WESTFIELD, Mass., Sept. 29, 2004 - HydroTherm, a leading manufacturer of high efficiency commercial boilers, now offers boiler room control from remote locations with its new S1000B Programmable Controller.

The S1000B Programmable Controller is designed to enable users to control heating boilers, domestic hot water boilers, motorized valves, combustion air dampers, draft inducers and more from remote locations. In addition, the system offers two outputs programmed to control two pumps with lead lag and automatic failure rotation.

"We are very excited about the new S1000B Programmable Controller," said Floyd Lewis, product manager for HydroTherm. "Remote monitoring and control has become an important aspect of many facility managers, installing contractors and building owners for installations of HVAC systems during the past few years. The S1000B Controller is an ideal solution for monitoring and adjusting commercial hydronic heating systems."

The new S1000B Programmable Controller features 16 inputs permitting the addition of temperature sensors and prove switches for a wide range of safety functions, data collection and system monitoring. In addition, the system offers a data logging feature to record system-wide information such as water temperature, number of cycles, sequences and run times of the boiler modules and circulator pumps. The system can also be programmed to monitor events such as alarms. See complete list of features below.

The system enables users to monitor the operation from remote locations using the built-in modem and software. Users can view and monitor the system, download data logs and change system settings from remote locations through password-protected access on the web. The basic package includes:
o The S1000B controller with modem and RS232 communications connections
o The Supply Water Temperature Sensor with hardware
o The Outside Air Temperature Sensor with hardware
o A 24 VAC Transformer
o PC Communications Software
o Operation manuals

Optional equipment includes a domestic water sensor and hardware to monitor and control DHW modules, a general purpose relay for switching line voltage or high amp load with output relays, and a 24 VAC 2-wire transformer to power up to three general purpose relays.

The S1000B Programmable Controller is a lockable 16 gauge, corrosion-resistant, stainless steel enclosure measuring 12.25-inches wide X 18.25-inches high X 2.75-inches deep, and features a florescent display for easy viewing in dark boiler rooms. The system requires 115V/60Hz and has removable and replaceable relays with indicator lights for maximum visibility.

HydroTherm, a division of Mestek, is celebrating its 50th year of manufacturing cast-iron commercial and residential boilers and heating systems. For additional information on the new HydroTherm S1000B Programmable Controller, contact: HydroTherm, 260 North Elm Street, Westfield, Mass., 01085. Tel.: 413.564-5515 or visit us on the web at www.hydrotherm.com. In Canada please contact HydroTherm at 5211 Creek Bank Road, Mississauga, Ontario, L4W-1R3 Canada, or call (905) 625-2991.

S1000B Programmable Controller Standard Features
o 16 inputs and 16 outputs
o 2 pump outlets with lead lag and automatic pump failure rotation
o Password protection
o Vacuum florescent display for maximum visibility
o Simple 4 key touchpad with "ESC" key
o Controls heating and domestic hot water modular boiler systems
o Reset or Outdoor Reset for constant supply water temperature
o "System On" temperature range 40 - 100 F can be disabled for summer operation
o Sequencing options: Last on, First off (LOFO) or First on, First off (FOFO)
o Lead boiler selection: manual selection OR automatic rotation in FOFO sequence
o Minimum On and Off times
o Short cycle subroutine prevents unnecessary cycling
o Night/Holiday setbacks
o Manual override of setback (2 hours)
o Flow switch/safety circuit interlocks
o Combustion air damper subroutine
o Induced Draft Fan subroutine
o Spill switch subroutine (for certain local code requirements)
o Special event programming for additional or unusual applications
o Data logging for operational analysis (the last 1,300 actions are recorded)
o Direct Digital Communications (DDC) capabilities
o PC Communications software
o Industrial modem
o Pump rotation

More from Computer Hardware & Peripherals