Programmable Control aids installation of MFMs and MFCs.
Press Release Summary: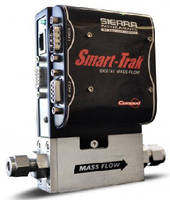 Coupled with Smart-Trak® mass flow meters (MFMs) and controllers (MFCs), Compod(TM) programmable control module simplifies basic flow control installations and permits networking of multiple instruments using open-source MODBUS RTU protocol. Dual digital outputs and one analog input can be configured by end-user various process controls. System also monitors functionality of MFM/MFC and includes diagnostic as well as fault/update notification capabilities.
---
Original Press Release:

Sierra Instruments Introduces New Programmable Control Module (Compod(TM)) for Digital Mass Flow Meters & Controllers



New Compod(TM) simplifies basic flow control installations

MONTEREY, CA - April 9, 2009 - Sierra Instruments, a world leading manufacturer of mass flow meters and controllers, announces its new programmable control module, the Compod(TM).

With its advanced capabilities, the Compod(TM), coupled with Sierra's Smart-Trak® mass flow meters (MFM's) and controllers (MFC's) greatly simplifies basic flow control installations and permits networking of multiple instruments using open-source MODBUS RTU protocol. By adding the Compod(TM) module to a new or existing Smart-Trak® MFM or MFC, end users can take complete control. Two digital outputs and one analog input can be configured by the end user for a wide variety of process controls including:

o Gas mixing and blending
o Gas ratio control
o Simple batch processes
o Triggering alarms
o Starting or stopping gas flows automatically under user-defined conditions
o Gas flow totalization
o And many more...

Compod(TM) also monitors the functionality of the mass flow meter or controller and includes diagnostics, notifying users of faults or system updates.

The Compod(TM) mounts to any Sierra Smart-Trak® 100 Series converting the instruments' internal RS-232 communications into multi-drop RS-485/MODBUS RTU. With MODBUS, multiple instruments can be daisy-chained over a single network. When used with a PLC or master computer, each instrument equipped with Compod(TM) becomes a node on the MODBUS network, capable of sending and receiving data, and commands. Even complex process control systems can be automated with the power of Compod(TM) and Sierra's Smart-Trak® 100 Series.

Users can utilize Sierra's provided software or write proprietary software using open-source MODBUS protocol to configure standard functions for the Smart-Trak® 100 Series. Compod's two digital input/output channels and the analog input channel and a configurable pulse output channel can automate gas processes without the need for an external PLC or computer.

Unique Benefits of the Compod(TM)

o Controls simple processes without the need for external PLCs or computers
o Acts as a vital link in a complex process control network
o Monitors the operation of instruments and provides potential problem alerts
o Is available with a local LCD Display for local monitoring
o Can be used with new instruments or added to existing models

With all of the above features, Compod(TM) can perform the same functions as much more complex control systems at a fraction of the cost, so using Compod(TM) is smart in more ways than one.

Complete technical information on the Compod(TM) is available online at www.sierrainstruments.com/products/compod.html or free of charge from Sierra Instruments, Inc., 5 Harris Court, Building L, Monterey, CA 93940 PH (800) 866-0200, FX (831) 373-4402

ABOUT SIERRA

Sierra is one of the most trusted manufacturers of high performance flow meters and controllers today. By combining superior product quality with a talented global support network of flow experts in 47 countries, Sierra consistently delivers quality flow measurement solutions for each customer.

Our Thermal Mass, Transit-Time Ultrasonic, Vortex Shedding and Multivariable instruments are available in both standard and customized versions for applications in laboratory, industrial and hazardous environments. Sierra's flow measurement technologies precisely measure or control very low flows of gas down to less than 1 sccm full scale as well as extremely high flows of gas, liquid, and steam. With rugged product design, cutting-edge innovation, and a worldwide team of flow experts, experience why customers around the globe rely on Sierra.

Visit us at www.sierrainstruments.com or call us at 800-866-0200 to learn more

More from Agricultural & Farming Products