Programmable Clock Generators deliver power, flexibility.
Press Release Summary: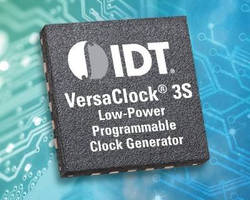 Respectively available in 4 x 4 mm 24-QFN and 3 x 3 mm 20-QFN packages, VersaClock® 3S 5P35023/5P35021 can replace multiple crystals or XOs. Proactive power conservation, performance-based power balancing, and dynamic frequency control (supported by OTP memory), Overshoot Reduction Technology, and 2 differential outputs are standard. Differing in number of single-ended LVCMOS outputs, both models have digitally controlled oscillator supplying system with 32.768 KHz clock.
---
Original Press Release:

IDT's New VersaClock 3S Clock Generators Deliver Innovative Features for Optimal Blend of Performance, Power and Flexibility



The Compact New Products Can Replace Multiple Crystals or Crystal Oscillators for a Smaller Board Footprint While Maintaining Extremely Low Power Consumption



SAN JOSE, Calif. -- Integrated Device Technology, Inc. (IDT(®)) (NASDAQ: IDTI) today introduced its VersaClock(®) 3S programmable clock generators, the newest members of its award-winning product line. The VersaClock 3S devices deliver innovative power-saving features while saving board space by eliminating the need for multiple discrete timing components. Delivering low power and low jitter scalability, the VersaClock 3S devices meet requirements for widely used standards including PCI Express® Gen 1/2/3 and are ideal for consumer, industrial, computing and automotive applications.



The 5P35023 and 5P35021 chips deliver a unique set of features offering an optimal combination of performance, power and flexibility:



--  Proactive Power Saving--the world's first intelligent timing device to detect power down status of the downstream clocked component, resulting in further energy savings in the system

--  Performance-Power Balancing--a user-friendly interface allowing users to easily minimize power consumption based on targeted performance

--  Dynamic Frequency Control--supported by one-time programmable (OTP) memory, this feature provides the system the ability to dynamically switch between up to four programmed frequencies, allowing optimized performance and power consumption

--  Overshoot Reduction Technology--prevents unwanted frequency overshoot that can lead to system failures during fast frequency changes



The devices have an extremely low-power digitally controlled oscillator supplying the system with a 32.768KHz clock that can be powered by a coin battery, making it ideal for handheld and battery-powered applications.



"The VersaClock 3S devices deliver performance, features and flexibility for designers facing tough space and power constraints," said Kris Rausch, general manager of IDT's Multi-Market Timing division. "The new devices feature innovations that can help design teams hit their performance and power-consumption targets while requiring minimal board space."



The VersaClock 3S 5P35023 has three single-ended LVCMOS outputs and two differential outputs that support LVPECL, LVDS, LP-HCSL, and single-ended LVCMOS. The 5P35021 has one single-ended LVCMOS output and two differential outputs. Both versions feature a low-power 32.768 KHz clock output with less than 2  A current consumption for use as a system RTC reference clock.



The 5P35023 is available in a 4 x 4 mm 24-QFN package, and the 5P35021 is available in a 3 x 3 mm 20-QFN package.



About IDT

Integrated Device Technology, Inc. develops system-level solutions that optimize its customers' applications. IDT's market-leading products in RF, timing, wireless power transfer, serial switching, interfaces and sensing solutions are among the company's broad array of complete mixed-signal solutions for the communications, computing, consumer, automotive and industrial segments. Headquartered in San Jose, Calif., IDT has design, manufacturing, sales facilities and distribution partners throughout the world. IDT stock is traded on the NASDAQ Global Select Stock Market® under the symbol "IDTI." Additional information about IDT is accessible at www.IDT.com. Follow IDT on Facebook, LinkedIn, Twitter, YouTube and Google+.



IDT and the IDT logo are trademarks or registered trademarks of Integrated Device Technology, Inc. All other brands, product names and marks are or may be trademarks or registered trademarks used to identify products or services of their respective owners.



IDT Press Contact:

Dean Solov

Public Relations Manager

Phone: (408) 284-2608

E-mail: dean.solov@idt.com

More from Explosives, Armaments, and Weaponry