Programmable Automation Controllers operate from -40 to 70°C.
Press Release Summary: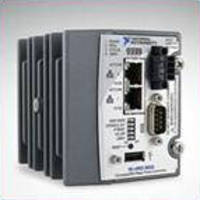 Suited for measurement and control applications at extended temperatures, CompactRIO cRIO-9023 has 533 MHz PowerPC processor, while cRIO-9025 features 800 MHz PowerPC processor, as well as dual Ethernet ports for network programming, communication, and expansion I/O. Both controllers work with existing CompactRIO reconfigurable chassis and are available with conformal coating, which provides impermeable seal to protect circuitry from humidity, mold, dust, and corrosion.
---
Original Press Release:

NI CompactRIO Controllers Offer Extended Operating Temperature Range of -40 to 70 Degrees Celsius



Controllers Also Available with Conformal Coating to Provide Protection for Extreme Applications in Harsh Conditions

NEWS RELEASE - National Instruments today announced the release of two CompactRIO programmable automation controllers (PACs), which offer engineers and machine builders an ideal solution for high-performance measurement and control applications operating at extended temperatures. The NI cRIO-9023 and NI cRIO-9025 real-time controllers also are available with conformal coating for additional protection of components and circuitry within harsh conditions.

The new CompactRIO controllers provide even more processing for advanced measurement and control applications ranging in temperatures between -40 and 70 degrees Celsius. The NI cRIO-9023 controller has a 533 MHz PowerPC processor, and the NI cRIO-9025 controller has an 800 MHz PowerPC processor, as well as dual Ethernet ports for network programming, communication and expansion I/O. Both controllers work with the existing CompactRIO reconfigurable chassis, which include field-programmable gate arrays (FPGAs) that are programmed using the NI LabVIEW 2009 graphical system design platform. Using LabVIEW and CompactRIO, engineers quickly can implement custom analog and digital control loops, along with high-speed signal processing algorithms to meet their advanced measurement application needs.

In addition to an extended operating temperature, the new CompactRIO controllers are available with conformal coating. This coating is a specially formulated thin film material applied directly to circuit boards or circuit card assemblies and provides an impermeable seal to protect circuitry from humidity, moisture, mold, mildew, fungus, dust and corrosion caused by exposure to extreme environments. Application areas in which conformal coating can provide protection include marine, railway, automotive, factory monitoring, fuel cell testing and oil and gas refining.

For more information about the NI cRIO-9023 and NI cRIO-9025 real-time controllers, as well as conformal coating, visit www.ni.com/compactrio.

About National Instruments

National Instruments (www.ni.com) is transforming the way engineers and scientists design, prototype and deploy systems for measurement, automation and embedded applications. NI empowers customers with off-the-shelf software such as NI LabVIEW and modular cost-effective hardware, and sells to a broad base of more than 30,000 different companies worldwide, with no one customer representing more than 3 percent of revenue and no one industry representing more than 15 percent of revenue. Headquartered in Austin, Texas, NI has more than 5,000 employees and direct operations in more than 40 countries. For the past 11 years, FORTUNE magazine has named NI one of the 100 best companies to work for in America.

Pricing and Contact Information

NI cRIO-9023 Controller

Priced* from $3,699; 3,249; ¥444,000

NI cRIO-9025 Controller

Priced* from $4,499; 3,949; ¥540,000

Web: http://www.ni.com/compactrio

*All prices are subject to change without notice.

Contact Sales: http://www.ni.com/contact

E-mail: info@ni.com

More from Electronic Components & Devices