Program manages equipment inspection and maintenance.
Press Release Summary: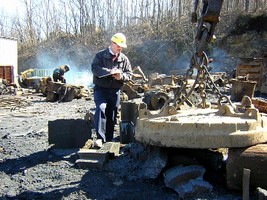 Intended to help plant engineers and maintenance personnel keep below-the-hook equipment compliant with OSHA regulations, pre-packaged LiftTrax Program incorporates inspection protocols that cover hundreds of inspection points for wide range of lifting devices. Certified inspectors perform work in accordance with applicable codes, standards, and specifications. They can be dispatched to report on single lifting device or for all related equipment in entire facility.
---
Original Press Release:

"Lifttrax(TM)" Brings Integrated Inspection and Maintenance Solutions to Below-The-Hook Devices



Alliance, OH - "Safety and reliability are always top-of-mind for the customers we deal with," says Joe Schatz, President of Winkle Industries. "So we were frankly surprised to discover that many plant engineers and maintenance personnel are actually unaware of the proper inspection intervals and the important details involved for keeping their below-the-hook equipment compliant with OSHA regulations. Many are unaware that OSHA standards clearly state that the equipment must be maintained in accordance with published criteria. That's why we developed LiftTrax as a pre-packaged inspection and maintenance management program."

According to Schatz, Winkle customers routinely subject their overhead cranes and mobile material-handling equipment to planned inspections and maintenance. They are well aware of the need for regulatory inspections, not only to comply with safety regulations, but to avoid the high costs of unscheduled downtime caused by equipment failure. "But somehow," he continues, "service planning for below-the-hook devices has slipped under their radar. Now, with LiftTrax, they can plan the maintenance of their below-the-hook lifting devices with the same rigor and discipline as their primary equipment."

Focus on uptime
As a leading supplier of magnetic and mechanical lifting devices for various industrial and material handling markets worldwide, Winkle is very familiar with regulatory needs as well as reliability issues with this type of equipment. "Winkle got its start years ago, refurbishing lifting devices and crane equipment that had already failed. We made our living on device failures, but now our focus is on preventing failures and maximizing uptime for our customers."

Schatz says that as much as 30% of the lifecycle cost for lifting devices can be attributed to maintenance and repairs. The consequential costs of unplanned downtime are incalculable. The goal of the LiftTrax program is to move the vast majority of maintenance costs away from emergency service and repairs, and into a proactive schedule where service costs are minimized. "If most needs for below-the-hook service can be coordinated with scheduled maintenance shutdowns, the actual cost of maintaining them becomes negligible. By moving 90% of lifting device maintenance into planned service, customers can look to savings of as much as 25% in overall lifecycle costs." It's not just a good idea...it's the law! While compliance penalties are not a cost that customers like to dwell on, the risk is real. "OSHA stipulates standards and intervals for safety inspections on lifting devices, just like most other industrial equipment," Schatz explains. "Your attachments need to be inspected, and the inspections need to be updated on a regular basis. Neglecting these inspections can lead to penalties and shutdowns. And if there's an accident, of course, the costs can be much higher."

The new LiftTrax program incorporates a myriad of inspection protocols that cover hundreds of inspection points for a wide range of below-the-hook lifting devices. Electrical, mechanical and structural service areas are all defined for the LiftTrax checklists. Winkle certified inspectors include trained technicians who perform work in accordance with applicable codes, standards and specifications. Inspectors are certified for weld inspection (CWI) as well as specialized Non-Destructive Testing procedures (ASNT NDT Level III) and hold other affiliated accreditations for complete inspection criteria. Inspectors can be dispatched to report on a single lifting device or for all related equipment in an entire facility. The inspection reports are then entered in the LiftTrax database maintained by Winkle Engineering Department in Alliance, OH, where future service needs are evaluated and scheduled according to established maintenance parameters.

"Of course, every facility is different," Schatz continues. "So a key element of LiftTrax is a personal on-site consultation with one of our engineers to help get the maintenance program up and running."

If required, Winkle is also able to coordinate the delivery of maintenance services to complete any of the service tasks specified by the customer's LiftTrax program. Devices with severe service needs may be shipped to the Winkle factory for repair or remanufacturing. Most often, however, service is provided on-site by Winkle's own field technicians or through an authorized Winkle service technician.

About Winkle Industries
Winkle Industries is a worldwide leader in engineered solutions for users of mill-duty material handling equipment. Capabilities include below-the-hook lifting devices, mill equipment, crane products, engineering services, aftermarket services, machining and fabrication. Winkle's experience and resources is "raising customer expectations" on a wide range of needs, from innovative product design to customer process improvement.

For more information on Winkle Industries and their complete line-up of products and services, contact:

Amy Weidman
Customer Service

or

Paul Predagovic
Director of Engineering & Production

Winkle Industries Inc.
2080 West Main Street, Alliance, Ohio 44601
Tel: (330) 823-9730 Fax: (330) 823-9788
Email: sales@winkleindustries.com
Visit the web site at www.winkleindustries.com

More from Laboratory and Research Supplies and Equipment