PROFINET-IRT Interface features Siemens ERTEC-200 processor.
Press Release Summary: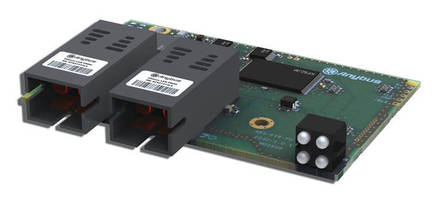 Combining Profinet interface with IRT functions according to Class C standard, Anybus-S Profinet-IRT interface includes analog/digital components and 2-port real-time switch. Integrating 2 SC-RJ fiber optic connectors for physical network connection, embedded communication module features dual-port RAM-based hardware and software interface, with interchangeability facilitated by 16-pin RJ11 connector. Fiber optic transmission enables high immunity to EM disturbances.
---
Original Press Release:

Anybus-S: New Fiber Optic PROFINET-IRT Interface Based on Proven Siemens ERTEC-200 Technology



HMS Industrial Networks extends its Profinet product offer by introducing the Anybus-S Profinet-IRT interface with fiber optic connectors.

The embedded communication module, Anybus-S for Profinet, combines a Profinet interface with IRT functions according to the Class C standard. The intelligent communication module is based on the ERTEC-200 technology from Siemens and includes all analog and digital components for an effective Profinet IO interface with IRT features, including an integrated 2-port real-time switch. The physical network connection is made via two SC-RJ fiber optic connectors.

This module is specifically targeted for use within the automotive industry. Many automobile manufacturers are using fiber optic technology in their existing Interbus installations and are now migrating to Profinet with fiber optic transmission. The introduction of Profinet is seen as a natural evolution from Interbus and will take place step by step over the next 5 years.

The on-board, powerful Siemens ERTEC-200-processor handles the entire Profinet protocol autonomously and thus relieves the field device´s main processor completely from the protocol processing. The dual-port RAM-based hardware and software interface of the module is standardized and functionally identical to all other Anybus-S modules. This interchangeability is provided by a 16-pin RJ11 connector that secures the connection with all the other fieldbus and Ethernet modules from the Anybus-S family, without any changes to device interface.

PROFINET-IO offers real time communication with high data throughput and also allows industrial IT functions to be employed. The fiber optic transmission guarantees the highest immunity against electromagnetic disturbances and advanced transmission quality monitoring.

HMS Industrial Networks is the leading independent supplier of embedded network technology for automation devices. HMS develops and manufactures solutions for interfacing automation devices to industrial networks. Development and manufacturing takes place at the head office in Halmstad, Sweden. Local sales and support is provided by the HMS branch offices in Chicago, Beijing, Karlsruhe, Milan, Mulhouse and Tokyo. HMS employs over 150 people and reported sales of 33 million in 2008. HMS was formed in 1988 and is listed on the NASDAQ OMX Nordic Exchange in Stockholm in the category Small 1/2Cap, Information Technology with ISIN SE0002136242.

HMS Industrial Networks Inc 900 W Jackson Blvd, Suite 2W IL 60607 Chicago

www.anybus.com

SALES DEPARTMENT

Phone: +13128290601

Fax: +13127385873

us-sales@hms-networks.com


SALES DEPARTMENT

Phone: +13128290601

Fax: +13127385873

us-sales@hms-networks.com

HMS Industrial Networks

Stationsgatan 37

30245 Halmstad

Sweden

www.anybus.com

NALIN Michela

Phone: +46-351729-93

Fax: +46-351729-09

min@hms.se

More from Materials