Profiles for Accurate and Dimensionally-Stable Connections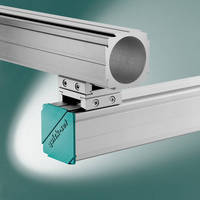 Derendingen - For applications in the construction of machinery, mainly frameworks with accurate and dimensionally-stable connections, Montech AG provides a system of universal modular profiles.

The connections of the profile system Quick-Set are vibration-resistant, therefore they are ideal for applications in heavy-duty conditions. The dovetail geometry ensures an accurate connection of two elements, featuring high load capacity and resistance to vibration. Dovetail connections can be subjected to larger loads than T-slot connections. With the screws tightened to the correct torque, the strength of the resistance to displacement between two interconnected profiles is 3000 N.
All Quick-Set elements, from profiles to connectors, are made of aluminum: the precision extruded profile weighs 2.18 kg/m.

Easy, quick and precise adjustment

Quick-Set is a modular universal system for supporting frameworks that allows quick mounting and machining of profile ends. It can be adjusted easily, quickly and precisely, without the need for drilling or pinning. All fastening screws are always accessible. The structures can be easily disassembled and reused; dovetail joints leave no residual drilling holes.

All free spaces can be leveraged and the structure can be modified at any time. The Montech system is environmental friendly as a result of its reusability.

For the construction of special machinery

The user can maximize efficiency by combining Quick-Set profiles with Montech's automation components, which can be mounted with a simple clamping system without adapter plates. "The customer has great freedom of configuration, especially in the construction of special machinery and in testing applications," says Gianluca Aloisi, Sales Manager of Montech AG.

Also for vision systems, Quick-Set profiles offer highly versatile adjustment and can be positioned very accurately thanks to the clamping system.

"Quick-Set application opportunities are virtually unlimited. Besides strictly technical applications in automation, the profiles are extraordinary for the construction of furniture, such as workbenches, shelving and tables," Aloisi concludes.

For more information, please visit the Web site www.montech.com or call
+41 (0)32 6815500.

Montech AG

Montech AG markets basic modular components for the automation of demanding transport, assembly and production processes. in addition to conventional conveyor belts, their product range includes automation components and the Quick-Set profile system. A specialist in standard and customized transport and conveyor systems, Montech offers an ideal combination of customer-specific solutions with a high degree of standardization. Founded in 1963, the company is based in Switzerland and stands for innovation in the automation industry.


More from Cleaning Products & Equipment