Profile Measurement System measures spring pitch and diameter.
Press Release Summary: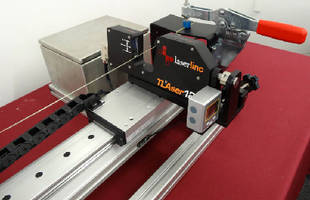 Featuring scanning laser micrometer mounted to linear actuator, Profile Measurement System measures enveloping diameter and pitch of springs, coiled tubing, and other corrugated or convoluted products. Linear actuator traverses length of spring and includes tilting fixture that allows micrometer to align with spring's exact pitch angle. For standard actuator, product lengths range from 0–2,000 mm. RS232 communication allows for device control as well as alarm condition evaluation.
---
Original Press Release:

Spring Profile Measurement System Improves Quality



Fairborn, Ohio -- LaserLinc has introduced a new system for measuring the diameter and pitch of springs, coiled tubing, and other corrugated or convoluted products. The measurement system features a scanning laser micrometer mounted to a linear actuator.



The linear actuator traverses the length of the spring. The actuator includes a tilting fixture that allows the micrometer to align with the spring's exact pitch angle. To verify the pitch angle, Total Vu™ software displays the spring's profile. A digital angle gauge ensures an exact mechanical angle setting. By incorporating measured diameter and pitch angle, the software computes the true enveloping diameter. An encoder provides distance value and measurements necessary for program calculations.



The system includes the following features and specifications:



Springs load on a customer-provided mandrel.

Springs can load singly or as multiples up to the number allowable per the actuator's length.

For standard actuator, product length 0 to 2000mm (longer lengths available as custom).

Calibrates in user-defined units.

Measures both pitch and enveloping diameter.

The actuator has user-selectable position set points and variable traverse speeds, with limit switches and emergency stop.

RS232 communication allows for device control as well as alarm condition evaluation.



Applications include springs, coiled tubing, other coiled products, corrugated products, convoluted products, and any product that requires tilting the micrometer to match pitch angle.



LaserLinc's TLAser122™ scanning laser micrometer mounted to linear actuator fixture (click the picture for high-resolution version suitable for print publication).



For more information about any of the products and features listed here, or for high resolution images suitable for print, please email Robert Wexler or call: 937/318-2440 or, toll-free: 888/707-4852.



Contents copyright © LaserLinc 2014

More from Software