Profile Grinder is suited for precision applications.
Press Release Summary: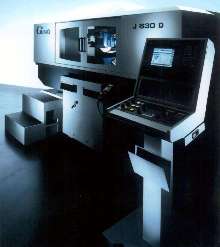 Equipped with Siemens 840 D CNC control, Jung J 630 surface and profile grinder incorporates double V guide construction and PA 37 CNC system that allows continuous profile dressing of grinding wheel. Spindle, hydraulic system, and diving column enable micron precision during grinding process. With max load of 130 kg, grinder has 600 x 305 mm grindable workpiece surface and cuts at speeds to 35 m/s. Grinding wheel has 300 mm dia, width of 30 mm, and 76.2 mm ID.
---
Original Press Release:

Jung J 630 Takes Ultra-Precision Profile Grinding Up a Notch


MIAMISBURG, OH - United Grinding Technologies, Inc. (UGT) announces the introduction of a new addition to its Jung line of high-precision surface and profile grinding machines, the J 630.

According to Chris Stine, vice president, the J 630 is uniquely suited to ultra-precise work, such as tool and die and microelectronics applications. "If your tolerance requirements are a few thousandths or tenths, this probably is not the machine for you," Stine says. "But if you've got to produce ultra-fine finishes on tough materials, or micron-precise contours and profiles on tools, dies and punches, this machine is the right choice."

Setup and changeover are fast and uncomplicated. The PA 37 dressing system, which allows continuous profile dressing of the grinding wheel simultaneous with the grinding process, can reduce grinding times by as much as 40 percent to 50 percent, especially with difficult-to-cut materials. This makes the J 630 an ideal candidate for the often-frantic just-in-time environment of today's tooling suppliers to stamping and fabricating shops.

The double V guide construction, custom manufactured for each machine, provides the highest degree of rigidity and stability in the industry. Three elements - the spindle, the hydraulic system and the diving column - historically have proven a significant Jung advantage and facilitate absolute micron precision during the grinding process. The spindle, which is manufactured by Jung in a climate-controlled clean room, ensures optimum concentricity and balance. The hydraulic system establishes a defined thermal stability in the upper guide area, and the diving column principle, developed by Jung, results in perfect infeed/grinding precision.

Specifications
The table magnet is 600 mm x 250 mm, and the grindable workpiece surface, including wheel width, is 600 mm x 305 mm. Distance between table surfaces and spindle center is 500 mm, while the maximum load, including the magnetic chuck, is 130kg.

The main spindle drive is a 10 kW three-phase, DC motor with speed steplessly adjustable from 800 RPM to 4500 RPM. Cutting speed is 35 m/s. Grinding wheel diameter is 300 mm, width is 30 mm and ID diameter is 76.2 mm.

Axes travels: X-axis (table) rapid traverse is 1000 mm/min to 24,000 mm/min for reciprocal grinding and 5 mm/min to 1000 mm/min for creep-feed grinding. Traverse path between end positions is 660 mm, and the working stroke is 630 mm. The digital display is 0.001mm. Y-axis rapid traverse is 0.1 mm/min to 2000 mm/min, and the traverse path between end positions is 360 mm. Digital display is 0.0001 mm.

Z-axis rapid traverse is 0.1 mm/min to 2000 mm/min, and traverse path between end positions is 280 mm (270 mm with JVC). Digital display is 0.0001 mm.

Dressing
The PA 37 CNC profile dressing system features direct measuring and axis drives and high-resolution contour accuracy. The spoked diamond head with four diamonds, or quick, exchangeable diamond disk, and quick-change clamping system is variably appropriate for both roughing and finishing. Positioning accuracy is micron-precise. The profile width area is 50 mm, and profile depth is 15 mm inside/20 mm outside. Continuous profile dressing of the grinding wheel is simultaneous with the grinding process, resulting in significant reductions in grinding times.

Control
The Siemens 840 D is a highly flexible, robust and user-friendly CNC control. It is cleanly arranged for simplified programming with menu bars, softkeys and windowing technology. Setup is fully supported and aided by iconographies, and optional parallel operation permits programs to be entered and optimized during the grinding process. Loop interrupt cycles allow intermediate measurement. Other features include automatic traverse to workpiece, grinding wheel and diamond-changing positions and optional interpolation with continuous grinding (X/Y / Z/Y).

Although programming on the 840 D is fast, easy and straightforward, complex part geometries and grinding routines can be solved with equal ease and flexibility. Contours, for example, can be entered or modified directly on the machine - either externally or by downloading CAD files via an interface. An automatic swivel grinding angle calculation can be simulated for all contour dressing operations, eliminating potential collisions during actual dressing.

Founded in 1919 in Berlin, K. Jung GmbH, has become one of the world's leading manufacturers of high-precision surface and profile grinding machines, renowned for their extraordinary precision, state of the art grinding technology and exceptional durability. Jung profile grinding machines are supported by an expert team of grinding specialists and technicians drawing on hundreds of machine installations in more than 50 countries, as well as a worldwide support and service network.

United Grinding Technologies, Inc., the North American arm of the Korber-Schleifring Group and supplier of such venerable nameplates as Blohm, Ewag, Jung, Magerle, Studer, Studer Schaudt and Studer Mikrosa , is a global leader in grinding technology and has built a reputation for industry-leading innovation and unparalleled service and support.

For more information, contact United Grinding Technologies, Inc.; 510 Earl Blvd., Miamisburg, OH, 45342. Tel: 937/847-1215. Fax: 937/859-1115. www.grinding.com.

More from Chemicals & Gases