Professional-Use Sunscreen offers SPF of 30+.
Press Release Summary: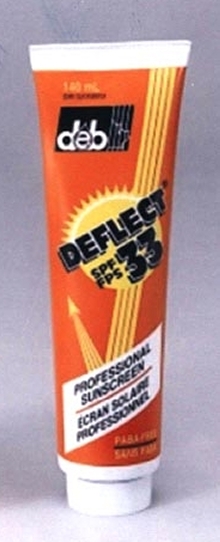 Deflect(R) 33 provides 30 times more protection than skin's natural defenses against harmful UVA and UVB rays. It is waterproof, greaseless, hypoallergenic, PABA free, and fragrance free. Sunscreen is formulated with moisturizers including vitamins A, D, and E, cocoa butter, and aloe vera. Deflect 33, in portable 5 oz tube, is suitable for anyone who spends extended time outdoors, including construction workers, utility crews, and delivery personnel.
---
Original Press Release:
DEB SBS Inc. Introduces Stronger Professional-Use Sunscreen Product

DEB SBS Inc., the company that protects, cleanses and restores
workplace skin, introduces a new level of sun protection with
Deflect(R) 33 Professional Sunscreen SPF-30+.

Deflect 33 provides thirty times more protection than the skin's
natural defenses against the harmful UVA and UVB rays of the
sun. Deflect 33 is waterproof and greaseless, so it won't interfere with work. Formulated with moisturizers including vitamins A, D and E, cocoa butter and aloe vera, it is also
hypoallergenic, PABA-free and fragrance free.

Deflect 33 is ideal for road and building construction workers,
utility crews, mail carriers and route delivery personnel,
landscapers and gardeners, airport ground crews - anyone who
spends extended time outdoors. It's available in a 5 oz. tube for maximum portability.

DEB SBS Inc. is part of Deb Global, one of the largest groups of workplace skincare specialists in the world. DEB SBS skincare products and dispensers are sold through a selective distributor network. Call 1-800-248-7190 for more information.

DEB SBS INC.
1100 Hwy. 27 South - Stanley, NC 28164 - 1-800-248-7190 - FAX 1-800-367-7408