Professional PA System produces performance-optimized bass.
Press Release Summary: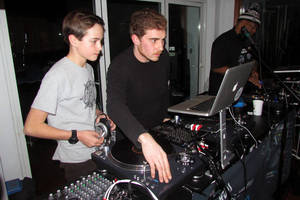 P-Series portable speaker system includes P1500x 2-way, bi-amped, full-range bass-reflex speaker, which employs 15 in. woofer with 1,500 W rating and high-frequency compression driver powered by custom Class-D amp. Like aforementioned speaker, P1800SX powered subwoofer has frequency-shaping controls, VEGA BASS boost, and high-pass filter switch. Subwoofer employs 18 in. woofer with custom 2,000 W Class-D amp; woofer and amplifier are enclosed in hardwood cabinet, maximizing bass.
---
Original Press Release:

Cerwin-Vega! Introduces P-Series into the Market with Bi-Coastal Events



Powerful, portable speaker system with legendary Cerwin-Vega! Bass



Cerwin-Vega! ® recently launched its new P-Series professional PA system, with events at the Gibson Showrooms in New York and Los Angeles. This new product, from the Gibson Pro Audio brand, was put to the test by artists such as DJ Premier, The Dirty Pearls, echosmith and DJ Serafin. Suited for any sound reinforcement application, from live performances to public speeches, the P-Series P1500X speakers were used both as monitor wedges and stacked with the P1800SX subwoofers for full amplification.



The performance in New York on Thursday, December 6, took place at the former Hit Factory Studios and featured performances by DJ Premier and The Dirty Pearls. As guests made their way into the showroom, Scratch DJ Academy guru, DJ Henry C, mixed songs from today's top 100 list on Stanton STR.150 turntables, with his beats blasting through the P-Series. One of the highlights of the evening was the unexpected performance by 12-year-old Luka, a Scratch DJ Academy student who is better known as DJ Not the Average. For his turn at the helm, and with DJ Henry C by his side, Luka laid down some old school rap beats using the Stanton SCS.4DJ Complete DJ System.



"The P-series sound was amazing," declares DJ Henry C. "The audio was through the air, it felt like it was right next to me."



After Luka's set, the crowd made their way to the live performance stage, where they rocked out to The Dirty Pearls, who played several of their original songs including "Who's Coming Back To Who," "Caffeine and Gasoline" and "NYC Is A Drug." With such a loud set, the band put the Cerwin-Vega! P-Series through its paces, and their performance continuously had a clear sound with ample power and punch.



"The P-Series Launch Event in NYC was the first time we played through the P-Series speakers," says Tommy London, The Dirty Pearls' lead singer, who, together with the band will be heading out on tour with Lady Gaga. "We noticed that even the audience tonight was more enthusiastic, and you could just tell that the electricity of the sound went through them and came back to us. It was just amazing. The P-series brought it!"



With the crowd hyped up, Grammy Award-winning producer, DJ Premier mixed a collection of generations-wide rock anthems that would have made any music buff excited. Using the Stanton STR.150, he laid down beats that pumped through the P-Series, which got everyone moving.



"The Cerwin-Vega! P-Series event was a blast of all blasts," adds DJ Premier. "Shout out to Cerwin-Vega! for always bringing legendary sound to all the speakers they make."



Hopping on a plane to do it all over again, the Gibson Pro Audio team members headed to Los Angeles, where they hosted another P-Series event on December 11, featuring DJ Serafin, DJ Young 1 and echosmith. DJ Serafin kicked off the night, spinning a collection of songs from the '80s, '90s and today on a Stanton STR.150. The crowd got pumping with his edgey mix of the popular song "Call Me Maybe," by Carly Rae Jepsen. With the P-Series helping to showcase his talents, DJ Serafin really got the party started.



"I loved the Mega Bass system in the P-Series," says DJ Serafin, who is signed with Jive Records to create remixes of songs by artists such as Britney Spears and Jordin Spark. "It is loud and perfect for all mobile applications."



After Serafin pumped up the house, 10-year-old DJing sensation and Jam Master Jay Scratch Academy student, DJ Young 1, took to the stage mixing a collection of today's hottest hits on a Stanton SCS.4DJ. The Cerwin-Vega P-Series highlighted just how talented she was, providing a crisp, clean, powerful punch of audio to the revelers.



"I liked using the Stanton SCS.4DJ at the Cerwin-Vega! P-Series Launch Party," says DJ Young1.  "It is similar to the one I had been using at home, but the Stanton mixer was a lot easier to use and set up. Stanton's effects are also better, and my mixes sounded great on the Cerwin-Vega! P-Series, too!"



Closing out the night was the band echosmith, who performed several of their own original songs. The young group of siblings, who are all pre-high school graduation, and whose song "Tonight We're Making History" was used in the official promos for NBC's coverage of the 2012 London Olympics, also belted out their cover to the popular Talking Head's song, "This Must be the Place." While the band is already known to always sound great, the P-Series further enhanced their performance.



"We were all really impressed at how big and clear everything sounded from such a small PA," agreed the members of echosmith.  "It was such a cool experience, getting to play a full electric set and still hear through our monitors perfectly. Everything was crystal clear, and hearing everything that clear and warm really inspired us to play a great show."



With so many amazing talents helping to showcase the full capabilities of the brand new P-Series line of professional speakers and amps, the gear really had its time to shine. At the heart of the system is the P1500x, a two-way, bi-amped, full-range bass-reflex speaker. Considered the most powerful PA product in its price class, the P1500x employs a 15-inch woofer, with a rating of 1500W, and high-frequency compression driver, powered by a custom Class-D amp.  A versatile product that can be used as a single speaker for a small venue, the P1500x can also be set in pairs for a larger venue needing more coverage and SPL, or side mounted as a floor monitor for a band. Built-in rigging points and a remote volume port also make the P1500X ideal for suspended installation.



The muscle of the P-Series is the P1800SX, a powered subwoofer, employing an 18-inch woofer with a custom 2000W Class-D amp. The large woofer and amplifier are enclosed in a hardwood cabinet, the combination of which provides a high level of bass punch and extreme low end response, both Cerwin-Vega! trademarks. Like the speaker, the P1800SX sub has frequency-shaping controls, a VEGA BASS boost, and a high-pass filter switch (as a built-in crossover). This ensures that the user has the right amount of bass for a particular venue. While designed for use with the P1500X, the P1800SX can be used for bottom-end extension with competitive products. Additionally, the THRU and MIX output options allow for system expandability and fast daisy-chain connections between components.



The P-Series suggested list prices are: $1199 USD for the P1500X and $1499 USD for the P-1800SX.



About Cerwin-Vega!

Cerwin-Vega!, part of the new Gibson Pro Audio division, is a leader in the design, manufacture, and distribution of loudspeakers for the home and professional audio markets. Designed in the pursuit of dynamic, accurate sound reproduction since 1954, Cerwin-Vega! products are distributed throughout the world via a network of distributors and dealers in more than 75 countries. For additional information on all Cerwin-Vega! products, please visit us online at www.cerwin-vega.com.



About Gibson Guitar Corp.

Gibson Guitar Corp. is known worldwide for producing classic models in every major style of fretted instrument, including acoustic and electric guitars, mandolins, and banjos. The Gibson Les Paul Guitar is the bestselling guitar of all time and is a tribute to the late, famed musician of the same name. Collectively, the Gibson Robot Guitar, Gibson Dark Fire, Gibson Dusk Tiger and the Gibson Firebird X represent the biggest advances in electric guitar design in more than 75 years. Through the Gibson Foundation, Gibson Guitar Corp. has become equally known for its philanthropic efforts on behalf of music, education, health and human services. Founded in 1894 in Kalamazoo, MI, and headquartered in Nashville, TN, since 1984, Gibson Guitar Corp.'s family of brands includes Epiphone, Dobro, Kramer, Steinberger, Tobias, Echoplex, Electar, Flatiron, Slingerland, Valley Arts, Maestro, Oberheim, Baldwin, Sunshine Piano, Take Anywhere Technology, J&C Fischer, Chickering, Hamilton, Wurlitzer and Gibson Pro Audio. Visit Gibson's website at www.gibson.com. Follow Gibson Guitar at www.twitter.com/gibsonguitar  and http://www.facebook.com/gibsonguitar.

More from Electrical Equipment & Systems