Production Tool Grinder stores up to 10,000 part programs.
Press Release Summary: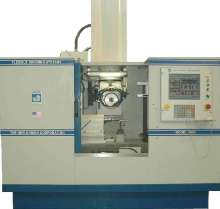 Model 9000 Super TruFlute Production Tool Grinder, when equipped with optional automated loader, provides 8-axis turnkey tool and cutter grinder with integrated 25 hp, direct drive, dual ended spindle. Equipped with Version 6 tool grinding software, product offers built-in networking capability and runs on Windows XP OS. Geometral(TM) software allows operator to customize/modify tool geometry, which is displayed in 3D on flat panel monitor.
---
Original Press Release:

Model 9000 Super TruFlute Production Tool Grinder


Ferndale, Michigan April 5, 2004 - We are pleased to announce The New Unison Corporation has introduced a new Model 9000 Super TruFlute Production Tool Grinder. The Model 9000, when equipped with our fully automated loader, is an 8 axis "turnkey" tool & cutter grinder featuring an integrated 25 horsepower direct drive, dual ended spindle. New Unison has incorporated state-of-the-art technology in the Model 9000's design minimizing deflection when grinding tools.

The Model 9000 is equipped with our latest Version 6 tool grinding software and runs on the Windows XP operating system. Our proprietary "Geometral" (TM) software allows the operator to quickly customize and/or modify tool geometry which is displayed in three dimensions (3D) on the machine's high-resolution, flat panel monitor.

This New Unison Model 9000 Production Tool Grinder features:

o Yaskawa AC Servo Motors & Drive Amplifiers
o 5 Year Warranty on Drive Package
o Optional Pick-n-Place Autoloader
o Multiple Jobs Can be Ran in One Pallet
o Production Monitoring/Parts Counting feature
o Automatic Wheel Compensation Feature
o 3D Graphics Package with Front & Side Views
o On-Board 3D Graphic Simulation of Parts
o Superior Diagnostic System
o User-friendly Graphical Interface Direct to Machine
o Built-in Networking Capability
o Capacity to Store 10,000 Part Programs/Wheel Packs
o Easy to Use Software

New Unison Corporation operates from its headquarters in Ferndale, Michigan and is staffed to handle all of your sales, service and/or spare parts needs as well as offers both mechanical and computer upgrades for all Unison equipment. New Unison's Service Department consists of the same highly skilled technicians who originally built your machinery and is the only factory authorized party who can service Unison equipment.

The New Unison Corporation markets its products on a worldwide basis under the TruFlute and DedTru tradenames with over 10,000 equipment installations serving the automotive, off-highway, plastics, aerospace, medical/dental and petrochemical industries. Our equipment is used by some of the largest corporations in the world; Bausch & Lomb, Becton Dickinson, Boeing, Bosch, John Deere, Eveready Battery, Ford Motor, Rolls Royce, St. Gobain and Textron just to name a few. Our product line features the Model 688 CNC Fluter, the Model 1100 CNC Camless Profile Grinder, the Model 2100 CNC DedTru Centerless Grinding System, the Model 2200 CNC ID Grinder, the Model 2300 CNC TruCut End Gasher, the Model 2400 CNC Roughing Cutter Grinder, the Model 2500 CNC Punch Grinder, the Model 2600 CNC 5-Axis Tool Grinder, the Model 2700 CNC 5-Axis Re-Grind/Remanufacture Grinder, the Model 4000 CNC Super TruFlute with Hydrostatic Ways and the Model 8200 Flexible Grinding System. New Unison also offers our Models U-12 and U-20 general purpose centerless grinders.

For additional information regarding New Unison products, please contact us. We encourage you to visit our expanded website at www.newunison.com. New Unison will feature its products in Booth #B-7345 at IMTS 2004.