Production Software suits inkjet and toner color copiers.
Press Release Summary: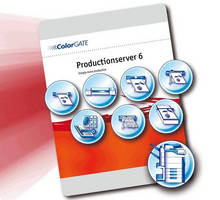 Productionserver v6 includes driver and extension module that allow use of its functions on all toner-based, PostScript-capable color copier systems. Suitable for mixed production environments, it also features Media Device Synchronization MDS module for recalibration of connected systems. Modules also include color correction; color replacement; Color Copier COCM, as well as 5 Hotfolders, 1 queue, 1 RIP process, and 1 color copier printer driver.
---
Original Press Release:

The Innovative HighEnd RIP for Inkjet and Toner Systems: ColorGATE Builds Bridges!



ColorGATE just recently launched the latest Version 6 of its popular software, a product which has received a very positive response in the industry - and now the Hannover-based development specialists are at it again: the Color Copier technology now introduced for the company's flagship product, Productionserver 6, the universal software RIP, has really got what it takes. The innovative driver solution and a new extension module make it possible to use the enormous array of Productionserver 6 functions with no limitations on virtually all toner-based PostScript capable color copier systems currently available on the market.

Now even mixed production environments can be completely controlled by one central color management system because existing Productionserver environments can also be upgraded with the Color Copier set.

"I am firmly convinced that we have been successful in building a very important bridge, one that is certain to be of benefit to a large part of the industry," said ColorGATE-managing director, Thomas Kirschner, with conviction.

Highly accurate color reproduction

Toner-based printing systems are fast and inexpensive compared to inkjet devices, but significantly more susceptible to fluctuations in color quality. A weakness that is now a thing of the past thanks to ColorGATE: the new Productionserver 6 Color Copier Edition now also includes the unique Media Device Synchronization MDS module for the direct and quick recalibration of all the systems connected. Whether it's a color laser printer or a copy station - color deviations are corrected in a flash.

And how can maximum identical color output be ensured not only for identical printers but across all printing systems as well? - This is where the ColorGATE experts play out another trump card. The Proofgate Module PGM, which is optionally available for the Productionserver 6 Color Copier Edition, now makes it possible to produce legally binding digital proofs according to the ISO 12647-7 standard and also allows the particularly convenient standardization of all toner and ink-based systems in the production environment: "The best prerequisites for top quality at top conditions everywhere where the identical color reproduction of a motif is important on different substrates and printing systems," commented Kirschner further, "such as in professional campaign printing."

Bottom line

Fresh impetus, creative ideas - that's what ColorGATE is known for, with often amazingly simple solutions to afford the best possible customer benefits; one prime example is Ink Saver, a system designed to drastically reduce ink costs introduced at the end of last year. With its latest development, Color Copier technology, the Hannover-based experts for innovative color impressively prove that they are not only at home in the inkjet sector, but will also play an important role in the world of toner-based printing systems in the future as well.

What's included

The Productionserver 6 Color Copier Edition includes the Productionserver 6 Select with the following modules: Media Device Synchronization MDS; Color Correction; Color Replacement; Color Copier COCM as well as 5 Hotfolders, 1 Queue, 1 RIP Process and 1 Color Copier Printer Driver.

For the seamless integration of toner-based PostScript capable color copier systems in existing Productionserver 6 environments, the Productionserver 6 Color Copier set is available with the Color Copier COCM and 1 Color Copier Printer Driver.

About ColorGATE

ColorGATE Digital Output Solutions GmbH, a leading European manufacturer with its head offices in Hannover, Germany, is an internationally active supplier of innovative product, consulting and system solutions for printing services and color management. The owner-operated company, which was first founded in 1997, maintains business locations in Germany, Italy and the UK.

More from Architectural & Civil Engineering Products