Production Control System enhances efficiency via data access.
Press Release Summary: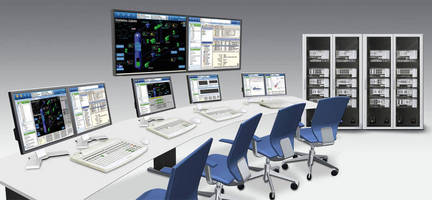 Used for process control and monitoring in diverse industries, CENTUM® VP Release 5.02 gives plant control managers access to essential information. Functions facilitate operability of control and monitoring displays, while PROFIBUS communication fosters optimal utilization of digital information from intelligent field devices. Along with hierarchies creation via instrument tag name function, features include memory for storage of historical data and control logic correlation.
---
Original Press Release:

Yokogawa Releases Enhanced Version of CENTUM® VP Integrated Production Control System



With the shift toward larger and more efficient industrial plants that make use of highly functional systems and devices, processes are growing more complex. With this in mind, industrial automation specialist, Yokogawa is continually developing its CENTUM® VP integrated production control system to meet these new demands. The company is pleased to announce the latest version of this renowned system, the cornerstone of Yokogawa's VigilantPlant® business concept for operational excellence. VigilantPlant® used throughout the world for process control and monitoring in oil and gas, petrochemicals, chemicals, electric power, pulp and paper, pharmaceuticals, foods and beverages, iron and steel, and water supply and sewage treatment.

To give plant control managers better access to essential information, Yokogawa has developed Release 5.02 with new functions that improve the operability of the control and monitoring displays. In addition, a PROFIBUS communication function has been enhanced to ensure plant operations are optimised by making full and effective use of digital information exchanged between intelligent field devices and the CENTUM VP system.

With this new software release operators will have even quicker and easier access to information on the status of plant operations as the Yokogawa design team has enabled the creation of hierarchies through an instrument tag name function. Additional changes that improve operational and maintenance efficiency include more memory for the storage of historical data, improved graphic display operability, enhanced control logic correlation, and standardised printing formats. Thanks to these new functions, Yokogawa's CENTUM® VP integrated production control system addresses the requirements of the VGB R 170C operational guideline. This means that the growing power plant markets in Europe can take full advantage of this sophisticated plant control system.

Ever mindful of the need to conform with industry standards, this new updated includes the ALP121 module complies with the PROFIBUS communication standard that has been widely adopted by the chemical and other industries, primarily in Europe. As specified in PROFIBUS User Organisation (PNO) guidelines, the ALP121 module supports the use of redundant communication paths with subsystems, improving overall system reliability. The installation of additional devices and online parameter changes are also enabled, which makes it easier to maintain devices and operate a plant.

With CENTUM VP as its core platform, Yokogawa continues to develop a variety of production control systems. As called for in the "Evolution 2015" mid-term business plan, Yokogawa is strengthening its offering of comprehensive solutions to target markets. For example, in the oil & gas upstream market, Yokogawa continues to develop collaboration/decision support solutions (CDSS) that are capable of acquiring and integrating information from production control systems distributed over a wide area.

Further Details: Louise Mungrue. Yokogawa UK Ltd. Solar House, Mercury Business Park, Wooburn Green, High Wycombe, Bucks. HP10 0HH Tel: 01628 535640 E-mail: [email protected] www.yokogawa.com/uk

UK Press Contact:
Eileen Holmes-Ievers. In Press Public Relations Ltd. St John's Chapel, High Street, Lambourn, Berkshire. RG17 8XL. Tel. 01488 674200 Mobile: 07774 968272 E-mail: [email protected] www.inpress.co.uk
Twitter: http://www.twitter.com/InPressPR

About Yokogawa UK Ltd
Yokogawa UK Ltd., part of the global Yokogawa Corporation, is a supplier of enterprise technology solutions to the process, manufacturing and utility sectors. The company is a technology and market leader in instrumentation and control, and holds many key patents and national and international approvals. Yokogawa UK's offices are in Runcorn, Cheshire and High Wycombe.

About Yokogawa

Yokogawa's global network of 19 manufacturing facilities and 85 companies spans 40 countries. Since its founding in 1915, the US$4 billion company has been engaged in cutting-edge research and innovation, securing more than 8,000 patents and registrations, including the world's first digital sensors for flow and pressure measurement. Industrial automation and control, test and measurement, information systems and industry support are the core businesses of Yokogawa. For more information about Yokogawa, please visit the company's web site at www.yokogawa.com.

About Yokogawa Europe B.V.

The European headquarters of Yokogawa were founded in Amersfoort in the Netherlands in 1982. Throughout Europe Yokogawa has its own sales, service and engineering operations. This dedicated network has been extended to Central and East Europe and Southern Africa to further enhance the coverage and support associated with serving the process control and automation market place. Yokogawa develops and produces flowmeters at Rota Yokogawa in Germany and liquid analysers and industrial safety systems in the Netherlands. In addition to this dedicated network of Yokogawa subsidiaries, a select organisation of Test & Measurement (T&M) subsidiaries and distributors is established in certain areas to support the specific customer needs of this continuously developing and specific market of T&M instrumentation.