Production/Agitation Retorts feature high-speed operation.
Press Release Summary: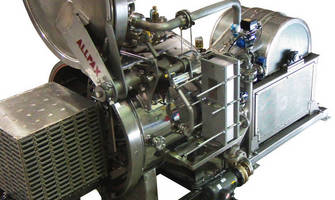 With one-ton capacity, Shaka® 1600 single-basket agitation retorts are used for producing shelf-stable food packaged in cans, glass, semi-rigid, and flexible containers. Packaging is loaded in horizontal orientation to obtain optimum benefit, and all containers in retort experience same heat profile as to promote batch consistency. Minimizing processing times via operating speed, system is compatible with existing batch lines relative to footprint, utilities, and operating procedures.
---
Original Press Release:

Allpax Is Now Manufacturing the Largest Shaka® Production Retorts in the World



Shaka agitation retorts open the door to innovation by producing shelf-stable products that rival the quality of aseptic and frozen food (Allpax Pack Expo 2012 Booth #3910)



COVINGTON, La. — Allpax Products, powered by Pro Mach, said today it is now manufacturing the Shaka® 1600 high-speed agitation retorts. These single-basket retorts are the largest capacity Shaka retorts in the world.  With a one-ton capacity, they can equal the output of four-basket static retorts because of an up to 90 percent reduction in cycle time. (Allpax Pack Expo 2012 Booth #3910)



"Because of the significantly reduced processing time, Shaka opens the doors to new products that would typically be difficult to retort and improves the taste and appearance of products now on the market," said Greg Jacob, vice president and general manager, Allpax. "For example when compared to static retorting, the improved taste and appearance difference is like night and day for pasta dishes, soups with particulates, sauces, and many other foods. The first production Shaka retorts were shipped last year and new Shaka retorted products from a major brand are now on the market."



Jacob said that the dramatically shortened batch times of the Shaka process means less overall heat degradation of the food and this has a profound effect on quality. In many cases low acid, shelf stable foods using the Shaka process can match or exceed the higher echelon of chilled, frozen, and aseptic products, but with an overall lower cost per case and the flexibility of batch retorting.



Shaka retorts are ideal for producing shelf-stable food packaged in cans, glass, semi-rigid, and flexible containers. In a Shaka retort, packaging is loaded in a horizontal orientation to obtain the highest benefit. Unlike other retorts where packaging at the outside or the center of the basket experience different heat profiles, all containers in a Shaka retort experience the same profile which leads to greater consistency in each batch.



Product innovation with Shaka starts in the lab

Because processing times are reduced so dramatically with Shaka retorts, development personnel will typically be reformulating recipes for current products and recasting formulations for new products. Shaka broadens horizons to include a host of new products that may have had some limitation in current batch retort technology. Brand owners should expect particulate products to mix better, dairy products to be scorch or burn free, and starches to have improved hydration. To assist in the research and development process, Allpax offers for sale or lease laboratory and developmental retorts that simulate the Shaka process. A lab unit will be on display at Pack Expo 2012 Allpax Booth #3910. Allpax also jointly participates in testing with its customers.



Shaka offers solutions for these manufacturers:

• Major brands looking for market differentiation or new products

• Smaller niche brands with premium (organic) products

• Co-packers that supply all market sector sized companies

• Pharmaceutical companies looking to gain a nutritional edge for nutraceutical products or drugs requiring homogeneous mixing

• Manufacturers that want to introduce new products in a shelf-stable format



Shaka retorts are compatible with existing batch lines relative to footprint, utilities, and operating procedures. Validating a Shaka retort line is similar to existing batch retort installations. An up to 90 percent reduction in cycle time ensures high throughput.



View a video of the Shaka 1600. For information on production and laboratory Shaka technology from Allpax and for the company's full lines of production retorts, R&D retorts, control systems, loading/unloading automation, refurbished retorts, and products and services for older canneries relying on vertical retorts, call 1-888-893-9277 and visit www.allpax.com.

985.893.9277



About Allpax Products

Allpax Products, a market leader in retort technology and retort room automation, designs, manufactures, and delivers turnkey sterilization solutions for the food, beverage, pet food, and pharmaceutical industries. The company is recognized for helping customers become more successful by decreasing time to market with laboratory retort equipment, lowering overall labor costs through automation, and increasing the overall throughput of the sterilization process. www.allpax.com



About Pro Mach

Pro Mach, Cincinnati, Ohio, is a leading provider of integrated packaging products and solutions for food, beverage, household goods, pharmaceutical, and other diverse consumer and industrial companies. Through three business units and related divisions, Pro Mach provides equipment, training, installation, and parts in primary packaging, end-of-line packaging, and identification and tracking. www.ProMachInc.com

More from Construction Equipment and Supplies