Product Recovery System removes liquids from packaging.
Press Release Summary: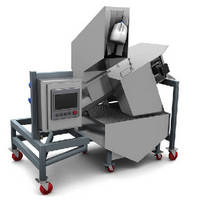 Providing automated, controlled removal of free-flowing liquids or flow-resistant wet contents from their packaging, ProductSaver® enables 99.95% reclaim of contents for residual re-sale, reuse, or efficient disposal; and reclaim of packaging material for recycling or disposal. System combines package in-feed, package opening, and contents and package separation processes into single-stream sequence. No break-pack or razor knife steps are necessary, protecting personnel from injury.
---
Original Press Release:

Product Recovery System Provides Automated, Controlled Removal of Packaged Liquids and Flow-resistant Wet Contents from Packaging; Reduces Material Loss, Improves Sustainability Metrics



HOLLAND, Michigan – National Bulk Equipment, Inc. (NBE). NBE introduces the ProductSaver® line of product recovery systems specifically designed to provide automated, controlled removal of free-flowing liquids or flow-resistant wet contents from their packaging. Processing and packaging operations must often dispose of, or destroy, off-spec, mis-labeled, overrun, or otherwise unsalable wet product and its packaging because labor re-allocation, product and plant contamination risks, minimal product recovery amounts, and facility cleanup costs associated with manual product recovery are too great. ProductSaver product recovery systems enable reclaim of contents for residual re-sale, reuse, or efficient disposal; and reclaim of packaging material for recycling, or disposal. ProductSaver product recovery systems can quickly make significant contribution to process performance by: providing tangible metrics tor sustainability improvements; protecting product safety; reducing material loss; and keeping labor on-task. ProductSaver systems are engineered to integrate with legacy processing and packaging operations, and can also be designed to run as a self-contained wet material reclamation system.



The ProductSaver system combines package infeed, package opening, and contents and package separation processes into a single-stream product recovery sequence. Whether pallet loads, cases, or single packs, no break-pack or razor knife steps are necessary; protecting personnel from knives and repetitive motion injury. Package opening occurs within the compression screw press where precision-formed, specially pitched, 304-2b stainless steel screw flights draw packages from the infeed chute into the compression sequence. The screw flights are edge-finished to open packages and accelerate material release prior to compression action. The conical screw shaft, together with an end block press, create a progressive compression force on the pre-opened packages to ensure thorough release of contents and separation of contents from packaging material. Two large-bore pneumatic cylinders power two compactor gates for final-stage material release. Automated discharge of compacted packaging material is provided by sensors at the compactor gates that gradually release compactor pressure and open the gates to discharge recovered packaging. ProductSaver product recovery systems provide up to 99.95% of content recovery for most wet material. ProductSaver product recovery systems are designed and built to the particular requirements of each application, regardless of package material or shape, including: ampoules; gabletop, coated paperboard cartons; polypropylene dairy containers; aluminum cans; aseptic cartons; PET bottles; ploy-based tubes; roll stock packs; and foil laminate pouches.



The process-specific design and materials of construction of ProductSaver systems ensure they are built to the particular processes and practices of the application and aid in attaining optimal compliance contribution (OCC). ProductSaver systems are also built to meet the FDA, cGMP definition for cleanability and are immediately able to assist in improving FSMA readiness.



(Editor's note: Video of operating sequence, viewable at: http://www.nbe-inc.com/productsaver_wet.php



Corporate Contact: Dave Denhof

National Bulk Equipment, Inc. (NBE)

More from Packaging Products & Equipment