Product Inspection Solutions from Thermo Fisher Scientific Coming to Interpack 2017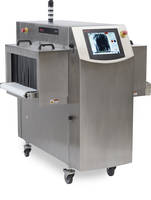 Inspection, detection and checkweighing technologies for product quality and safety on display
MINNEAPOLIS (February 28, 2017) – A broad array of X-ray, metal detector and checkweigher solutions for food, pharmaceutical and consumer product quality and safety will be featured by Thermo Fisher Scientific at Interpack 2017 in Dusseldorf, Germany, Messe Dusseldorf, May 4-10, Hall 8a, Stand C77.
Making its debut at the show is the Thermo Scientific NextGuard Pro - the latest model in the Thermo Scientific NextGuard X-ray inspection platform. In addition, the Thermo Scientific Versa Flex checkweigher will be on display for the first time in Europe.
The NextGuard Pro has been engineered to handle heavier product weights of up to 50 kilograms/110 pounds. The long, rugged, washdown conveyor is completely removable to facilitate maintenance and repair. To meet the needs of processors in countries with more stringent X-ray radiation regulations, additional shielding options are available. The NextGuard technology platform, including the C330 conveyor and C500 wider-aperture models, is already used in more than 30 countries.
The Thermo Scientific Versa Flex (fixed height) and Versa Flex GP (height-adjustable cantilever) checkweighers are suited for dry applications and designed to enable users to control accuracy and reliability, helping to decrease product giveaway, maintenance and total cost of ownership.
Also on display will be the Thermo Scientific Xpert S400 X-ray inspection system. The unit was developed for tall-profile package inspection with a flexible, easy-to-use and cost-effective horizontal beam X-ray system. It's designed to detect metal, glass, dense plastics and other foreign objects in vertically-oriented containers such as metal cans, plastic bottles, cartons and standup pouches.
"Customers around the world need to respond to increased regulatory requirements with inspection and detection technologies that are easy to use and reliable. At the same time, the solutions must support customers' goals for operating effectiveness," said Bob Ries, lead product manager, product inspection, Thermo Fisher. "Drawing on our more than seven decades of product inspection experience, our applications and product experts understand our customers' needs and respond with solutions designed to meet these growing requirements."
Rounding out the company's Interpack offerings are the:
• Thermo Scientific APEX 500 metal detector designed to reduce product effect and costly waste caused by false rejects. It offers excellent sensitivity and a multi-coil design for magnetic flux consistency.
• Thermo Scientific Global VersaWeigh combination checkweigher and metal detector,as a space-saving solution
• Thermo Scientific Versa RxV marking and verification pharmaceutical checkweigher for track and trace applications
• Thermo Scientific Versa 8120 chain checkweigher for high-speed weighing, control and reject functions for cartons, cans, bottles and pouches
For more about the Thermo Fisher Scientific booth visit: www.thermofisher.com/Interpack.
About Thermo Fisher Scientific
Thermo Fisher Scientific Inc.is the world leader in serving science, with revenues of $18 billion and more than 55,000 employees globally. Our mission is to enable our customers to make the world healthier, cleaner and safer. We help our customers accelerate life sciences research, solve complex analytical challenges, improve patient diagnostics and increase laboratory productivity. Through our premier brands – Thermo Scientific, Applied Biosystems, Invitrogen, Fisher Scientific and Unity Lab Services – we offer an unmatched combination of innovative technologies, purchasing convenience and comprehensive support. For more information, please visit www.thermofisher.com.
Sales inquiries:
Thermo Fisher Scientific
Product Inspection
501 90th Avenue NW
Minneapolis, MN 55433 USA
Phone: +1 763 783-2500
Email: sales.packaging.us@thermofisher.com
www.thermofisher.com/productinspection
Media Contact Information:
Ellen Share
Thermo Fisher Scientific
(763) 783-2574
More from Communication Systems & Equipment