Processmate(TM) 3000 Linear Axis Workstation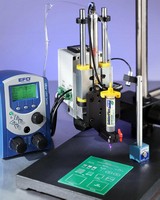 Replacing Manual Solder Paste Operations-Tripling Your Production

LINCOLN, Rhode Island - September 25, 2006 - EFD's ProcessMate(TM) 3000 is a turnkey solution that replaces inconsistent manual wire soldering processes. The workstation combines precise positioning, accurate dispensing of SolderPlus® solder paste, and a hot air reflow system.

By removing guesswork from the manual soldering process, the EFD's ProcessMate(TM) 3000 Workstation eliminates operator variability, reduces rework and scrap, increases productivity and improves production yields, without the need for special training.

"By removing inconsistencies in the deposit size, location and heat, the ProcessMate(TM) 3000 will change how people approach manual soldering applications," says Keith Wheeler, General Manager, Solder Paste Group, EFD, Inc. According to Nicholas Meeker, CAM Automation Engineer, Tech Circuits, Inc., "The PM3000 has increased our throughput by 300 percent."

EFD's ProcessMate(TM) 3000 has the versatility to be used as a benchtop assembly station or as an integrated station within a larger automated process and is available in several configurations to meet a variety of application requirements.

For more information, contact EFD at 800-338-4353, 401-333-3800, or visit www.efdsolder.com. EFD, Inc. is a wholly owned subsidiary of Nordson Corporation, the world's leading producer of precision dispensing equipment. Nordson and EFD systems apply adhesives, sealants and other assembly fluids to a broad range of consumer and industrial products during manufacturing operations, helping customers meet quality and productivity targets.

Except for historical information and comparisons contained herein, statements included in this release may constitute "forward-looking statements," as defined by The Private Securities Litigation Reform Act of 1995. These statements involve a number of risks, uncertainties and other factors, as discussed in the company's filings with the Securities and Exchange Commission that could cause actual results to differ.

More from Electrical Equipment & Systems