Processing System suits optical/industrial applications.
Press Release Summary: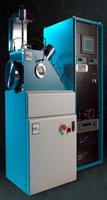 Designed to produce wear-resistant coatings, system offers 3 fundamental deposition techniques: RF Plasma with rotating stage, magnetron for sputtering metals and oxides, and ion beam for direct deposition of DLC and SiO
2
. It is available in batch and automated load-lock options and features etching capabilities. Able to produce protective, ultrasmooth DLC coatings, system is suited for use in manufacturing, R and D, and developmental engineering.
---
Original Press Release:

Diamonex Products' Introduces Versatile Processing System for Optical and Industrial Applications



Complete Platform Offers Unmatched Versatility and High Through Put

The Diamonex Products Division of Morgan Advanced Ceramics offers a new versatile processing system for producing wear-resistant coatings. As part of Diamonex Products' manufacturing platform, this innovative 3-in-1 system offers three fundamental deposition techniques: RF Plasma with rotating stage, a magnetron for sputtering metals and oxides and an ion beam for direct deposition of DLC and SiO2. The system also has etching capabilities and is available in batch and automated load-lock options. The processing system produces protective, ultrasmooth DLC coatings for optical and industrial applications.

Featuring a robust design, the processing system requires minimal maintenance, resulting in high uptime. Manufacturers rely on the system's control of material properties, repeatability, uniformity and for its overall cost-effectiveness. Offering unmatched versatility, this 3-in-1 system can be used in manufacturing, R & D, and developmental engineering.

About Morgan Advanced Ceramics
Morgan Advanced Ceramics (MAC) has a comprehensive range of Ceramic materials, from which its products are manufactured. Supplying to a variety of demanding markets, MAC has established an enviable reputation for providing value-added solutions through world-class research and development, innovative design and, perhaps most important of all, application engineering.

As a subsidiary of The Morgan Crucible Company, MAC forms part of the Morgan Technical Ceramics Group. The Group includes Morgan Electro Ceramics and from manufacturing locations in North America, Europe and Asia, it supplies an extensive range of products, including ceramic components, braze alloys, ceramic/metal assemblies and engineered coatings.

For more information on Morgan Advanced Ceramics visit www.morganadvancedceramics.com or contact one of our sales offices below:

UK & Eire
Morgan Technical Ceramics, Bewdley Road, Stourport, Worcestershire, DY13 8QR.
Tel: +44 1299 872210 Fax: +44 1299 872218
Email: uksales@morganadvancedceramics.com

Mainland Europe
Morgan Technical Ceramics Sales, Teplitzerstr. 27, D-84478 Waldkraiburg, Germany
Tel: +49 8638 6004 326 Fax: +49 8638 6004 327
Email: eusales@morganadvancedceramics.com

North America
Morgan Technical Ceramics Inc, 26 Madison Road, Fairfield, NJ 07004, USA
Tel: 1 800 433 0638 Fax: 1 973 808 2257
Email: ussales@morganadvancedceramics.com

Asia
Morgan Technical Ceramics, 158 Jiajian Road, Jiading, Shanghai 201818, People's Republic of China.
Tel: +86 21 5990 0687 Fax: +86 21 5990 3241
Email: mmsh@sh163.net

More from Controls & Controllers