Process Visibility App offers mobile access to manufacturing data.
Press Release Summary: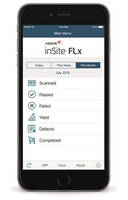 Bringing mobile process visibility to owners of FactoryLogix software, Aegis inSite converts iPhone, iPad, or iPod Touch into mobile portal. Users can access manufacturing and traceability (forward and reverse) information needed to obtain BI and make strategic decisions, show depth and instant availability of information from plant, and gain immediate access to WIP status, yield, and problem points. Users can also recall and display CAD images by serial number.
---
Original Press Release:

Aegis inSite App Provides Mobile Access to FactoryLogix Manufacturing Operations Software



Horsham, PA. – A new version of Aegis inSite has just been released, bringing the app's mobile process visibility to owners of Aegis' FactoryLogix software for manufacturing operations. The app, which was previously available to Aegis V7 software users, converts an iPhone, iPad or iPod Touch into a mobile portal to a vast range of manufacturing and traceability information. This latest, FactoryLogix-compatible version is faster and has been updated with a new user interface.



inSite is intended for use by engineers, production supervisors and management staff throughout the enterprise. Whether they are within the factory or at an external location, it provides quick, easy and mobile access to routinely required and actionable information from their FactoryLogix system. Users can exploit this information in widely differing ways to suit their particular discipline.



Executives not closely involved with day-to-day factory floor operations can benefit from the interface's simplicity to rapidly access the information necessary to obtain business intelligence and make strategic decisions. Marketing and sales staff can prove to visitors how well their organization is managing its manufacturing process by showing the depth and instant availability of information from the plant. Production managers have immediate access to WIP status, yield and problem points.



Quality managers can drill down into root quality issues and immediately visit their location on the plant floor. Similarly, manufacturing and process engineers can gain instant undistorted data on a new issue; this information will allow them to resolve the issue more easily on visiting its location.



Other features of inSite include forward and reverse traceability, summary data, quality data, WIP monitor and packout records. Reverse traceability data can be emailed to assist rapid containment in recall situations. Visualization of products is also possible as inSite can recall and display CAD images by serial number.



About Aegis

Founded in 1997, Aegis Software is headquartered in a state-of-the-art development and training facility in Philadelphia PA. Aegis has international sales and support offices in Germany, UK, China and Japan, and is partnered with 36 manufacturing equipment suppliers. With a global customer base of over 1700 factories across the military, aerospace, electronics, medical, and automotive industries. Aegis delivers a unique level of capability, value, and time-to-value for its manufacturing customers. Learn more by visiting www.aiscorp.com.



Press contact:

Renate Fritz

renate.fritz@onlinehome.de















More from Agricultural & Farming Products