Process Screener separates materials fast.
Press Release Summary: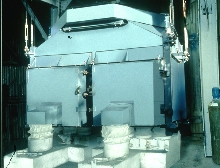 MEGATEX(TM) gyratory screener provides 100 to 350 sq ft of screen surface in 10x10x12 ft machine. It evenly splits and distributes incoming material to multiple, stacked 5 x 7 ft screen decks at rates up to 1,000 ton/hr. It uses 2-bank, multi-level screen deck, which keeps bed depth low and maintains screen accuracy and efficiency at high capacities. Screener can handle industrial minerals, dry chemicals, particle board furnish, and plastic pellets.
---
Original Press Release:
High Capacity MEGATEX Screeners Do The Job Of Multiple Conventional Screeners, Reducing Capital Outlay and Instalation, Operation and Floor Space Costs

ROTEX INC. will be exhibiting at the following 2002 trade shows: GEAPS, Vancouver, British Columbia, Canada (March 2-5) AOCS, Montreal, Quebec, Canada (May 5-8 2002)

CINCINNATI, OH (February 15, 2002) -MEGATEX(TM) Screeners from ROTEX INC. are the high capacity solution for effectively screening high volumes of materials that would overwhelm a single conventional screener.

MEGATEX Screeners provide efficient, accurate separations at production rates greater than other large capacity screening options. Providing 100 to 350 square feet of screen surface in a compact 10' x 10' x 12' machine, they can do the job of multiple conventional screeners, thus reducing capital outlay and saving considerable installation, operation and floor space costs.

The MEGATEX's unique design evenly splits and distributes the incoming flow of material to multiple, stacked 5' x 7' screen decks - the equivalent of a bank of ten screeners in one machine.

A single MEGATEX Screener is capable of such high volume screening production as: industrial minerals to 200 TPH; grain/agricultural products to 1.000 TPH; dry chemicals from 60 to 100 TPH; particle board furnish to 20 TPH; agricultural chemicals and fertilizers to 150 TPH and plastic pellets from 60 to 150 TPH.

MEGATEX Screeners achieve greater productivity through two design innovations: wide screens and long-stroke, gyratory motion.

Utilizing screen surfaces that are wider, rather than longer, enables MEGATEX Screeners to handle increased capacity while maintaining screening accuracy. Expansion of the total screen area is key to increased screener capacity - but all screen area is not equally productive. Increased screen width expands capacity more effectively than increased screen length. Therefore, MEGATEX uses a two-bank, multi-level screen deck arrangement to present 16' to 50' of width to the feed, which keeps bed depth low and maintains screen accuracy and efficiency at high capacities.

MEGATEX's long stroke, low frequency drive creates a force level that serves two important functions. First, the motion effectively spreads the material across the full width of the distribution panel, proportionally feeding each of the screen levels and eliminating the need for multiple process points. Second, the long stroke and low frequency produce effective ball mesh cleaning to control binding and provide long-term, uninterrupted operation.

The low frequency, gyratory screening also produces extremely low noise levels, far lower than those produced by vibratory screeners, and well within the comfort zone.

A full line of MEGATEX Screeners ranging from 120 to 350 square feet of screen surface area is available for a variety of general purpose and finer process screening applications.

The MG models, for applications from 12 mm to 850 microns, deliver high capacity screening for export grain terminal operations, inland grain cleaning, fertilizer loading, particle board face/core separations and wood chip classification.

Designed for high capacity, fine process screening as fine as 200 microns, the MA models have a unique lift rail system for positive sealing to prevent cross-contamination within the screener. They also feature auto-tensioning screen decks for constant screen tensioning and quick screen changeout.

ROTEX INC. engineers and manufactures a full line of screening equipment including ROTEX(R) Screeners and high capacity MEGATEX(TM) Screeners for particle size separation of grains, minerals, plastics and other dry solids; GRADEX(TM) Particle Size Analyzers. and LIQUATEX(TM) Liquid/Solid Separators. The company serves a global market in such industries as chemical processing, food processing, mineral processing, plastics compounding and agribusiness. ROTEX-xpress offers a full range of parts and rebuild services available through ROTEX headquarters in Cincinnati, OH.


More from Packaging Products & Equipment