Process Refractometer utilizes power of Ethernet.
Press Release Summary: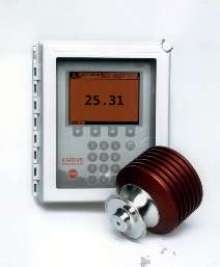 Model PR-23 determines concentration of dissolved solids by making optical measurement of solution's refractive index. Ethernet link facilitates communication with computer and other control systems, and provides real-time access to measurement data and diagnostic information on Web. Data acquired is transformed into real-time graphs and is logged as text file, which can be transferred into spreadsheet applications such as Excel or analyzed with data analysis tool.
---
Original Press Release:
New Generation Process Refractometer Exploits the Power of the Ethernet

The introduction of the PR-23 by process instrumentation company, K-Patents, brings improved levels of performance and an Ethernet link to facilitate communication with computer and other control systems.

The PR-23 process refractometer determines the concentration of dissolved solids by making an optical measurement of a solution's refractive index and is said to be the most accurate, reliable and easy-to use in-line instrument for liquid concentrations that the company has developed to date.

"K-Patents has built a reputation for in-line liquid concentration measurements within the process industries world-wide. Our industry is technology driven and companies have to adapt to changing technologies", says Marketing Manager Marja Kivenheimo. Design Engineer, Ville Voipio adds, "This launch also marks our ambitions to remain the leading player in this field."

Simple and economical solution

With its measurements solutions, K-Patents aims to address the major issue in the chemical, food, pharmaceutical or any process industry - productivity. Large quantities of high cost raw materials are used and recycled in refining and processing. The question is how to get the maximum value from the materials.

The PR-23 includes an Ethernet based communications solution. This allows connection to computer networks, and real-time measurement data and diagnostic information on the Web and Ethernet access from anywhere in the world by an Internet (IP) address. This also makes it a valuable service tool for parameter changes and software up-dates.

Standard communications route

The benefit of having Ethernet connectivity in a field instrument is that it is the most widely used local area network (LAN) standard with most types of computer having such a connection. Therefore, only a cross-over cable and some data acquisition software is needed for collecting the data from the PR-23 refractometer. Communication is built on standard protocols (UDP/IP) and K-Patents offers ready-to-install software for data acquisition.

The data acquired is transformed into real-time graphs and is also logged as a text file, which can be transferred into spreadsheet applications such as Excel or analysed with any data analysis tool. A graphical report can also be saved as Adobe Acrobat PDF. The K-Patents data acquisition software is expandable should the user wish to modify the program. The program is written in Java and can be run and easily tailored in almost any computing environment.

Additional new features include interchangeability and dual connectivity of the sensors. All PR-23 sensors have identical calibration and each sensor gives Refractive Index nD and temperature as output. These enable sensors to be freely interchanged without any hassle of optical calibration or parameter changes. It is simply a matter of plug and play!

Innovation centred

The fact that K-Patents is an innovative company is reflected in its choice of name coupled with strong patent protection in the USA, Europe and Japan. The company is a pioneer in the use of digital technology having started the transition twenty years ago. Digital technology enables sensors to be more integrated with control systems.

Today, K-Patents is the technology and market leader, and the fastest growing supplier of process refractometers in the world. The company designs and supplies a variety of specialised analysers and digital process refractometers for in-line liquid measurement in industrial process control. Founded in 1978, K-Patents introduced the first truly digital process refractometer that incorporated a CCD (charged couple device) camera technology into a measuring instrument.

With a wide range of applications in the sugar, food, pulp and paper, chemical, petrochemical and textile industries, the company's process refractometers are found in 75 countries.

For more information contact:

K-Patents Oy

Mrs Marja Kivenheimo, Marketing Manager

P.O. Box 77

(Elannontie 5)

FIN-01511 Vantaa

FINLAND

Tel: +358 9 825 66432

Fax: +358 9 825 66461

E-mail: [email protected]

www.kpatents.com

K-Patents, Inc.

Mr Eric Gronowski, Area Manager

1804 Centre Point Circle

Suite 106

Naperville, IL 60563

UNITED STATES

Tel:+1 630 955 1545

Fax:+1 630 955 1585

E-mail: [email protected]