Process Planning Software helps optimize productivity.
Press Release Summary: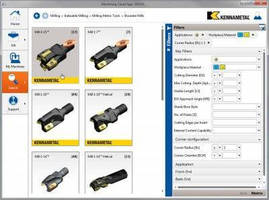 Offering cloud-enabled digital tooling and intelligence, NOVOsphere™ seamlessly interfaces with production, inventory, and e-commerce to optimize shop productivity. Part of NOVOsphere, NOVO™ Optimize collects real-time data on how cutting tools and machines are performing and provides analysis of where process efficiencies or capacity improvements are available. All data and process knowledge complies with MTConnect open, extensible, communications protocol designed for shop-floor environment.
---
Original Press Release:

Different Thinking and Better Data Enable Real Process and Productivity Improvement --Introducing NOVOsphere(TM)



Powerful cloud-enabled digital tooling data and intelligence seamlessly interfaces with production, inventory, e-commerce, and more to optimize shop productivity. NOVOsphere™ empowers shops hungry for real process improvement.



NOVO™ from Kennametal: a fundamental change in improving how work gets done.



From better data, better thinking and better decisions. Since its groundbreaking launch in 2013, Kennametal's NOVO™ digital process planning application has continued growing by supplying complete tool data (milling, turning, holemaking, tools, toolholders, spare parts, speeds and feeds, and much more) digitally, saving process planners, parts estimators, and manufacturing engineers hours of catalog lookups and process guesswork. Now with seamless connectivity via the Machining Cloud™, that same intelligence is driving new efficiencies in part design in CAD/CAM, cutting simulations, presetting, actual machining, inventory management, and e-commerce.



Another major step forward is to feed all these real and potential process improvements back into your shop based on actual data gathered from your own equipment and start seeing where capacities change and efficiencies improve. This intelligence and connectivity has led to NOVOsphere™, a fundamental step forward in how work gets done.



"It seems that most technology suppliers are rushing to provide some form of digital access to information, but digital access is just the entry ticket," says John Jacko, vice president and chief marketing officer, Kennametal. "Where Kennametal differs is in its unshakeable focus on how customers can leverage better cutting tool data and information to improve their entire business. NOVOsphere™ is based on an open architecture to deliver just that. NOVOsphere™ is an amazing vision on how far things can go to deliver productivity to our customers."



Manufacturing process experts have described the current spectrum of digital processing claims as a "feeding frenzy of connectivity and data." This is driven by a number of things – manufacturing businesses see opportunities for enhanced productivity and reduced time from design to production. More informed businesses add opportunities for providing services and products to better-informed customers – all at much greater speed. Others see value in offering informed analysis capabilities to convert this "firehose" stream of data to a manageable set of results and metrics.



"Our vision for NOVOsphere™ from the beginning is to provide an open-source system that interacts seamlessly with shop systems needing to leverage cutting tool data and machining knowledge for productivity improvement," Jacko explains. "NOVOsphere™ is built around the shop needs, from quotation to inspection. NOVOsphere™ has six essential application to help our customers be more productive:

- Select and Advise: This is the stage where users evaluate machining strategies based upon machine, material, part features, and specs. What is the best approach? How long will it take? How much will it cost? Which tools do I need?

- Simulate: This is the stage where users simulate the entire process from end to end with the use of software such as CAM. Are there any dimensional issues? Possible collisions, too many forces?

- Inquire and Purchase: This is the stage where users find out what they already have that can do the job and if it's available in real time to purchase when they need it.

- Optimize: This is the stage where users would like to know how the plan is working. Are we within planned cycle time, costs? Do I use this tool/process consistently across machines/plants?



Data is key to productivity. With its open architecture, NOVOsphere™ possibilities are limitless. NOVOsphere™ is further evidence that "Different Thinking is Better Thinking."



From Design Through Purchasing

What is amazing is the many areas of a production business where better tool data improves processes. DP Technology (Camarillo, CA) imports NOVO™ (now part of NOVOsphere™) tooling data into its latest version of ESPRIT cloud-enabled CAM software. This not only saves part programmers hours of time as opposed to manual tool creation, the part programs are better because the data is based on real tools that can be selected based on part features, work material, surface finish requirements, or whatever aspects of the job are most critical.



The value of NOVO™ data is not limited to the programming or process planning department. On the shop floor, presetting tools and tool assemblies is a valuable time-saver. ZOLLER (Ann Arbor, MI), a leader in automated presetting and balancing machines, knows customers can import NOVO™ data from the Machining Cloud and know they have precise and reliable tool dimensions, offsets, and other critical data to make presetting reliable and valuable.



Since the 2013 launch of the NOVO™ original Tool Selector, Tool Configurator, Tool Advisor, and Job functions, NOVO™ has added connectivity to E-commerce, easy ISO 13399 exports, and seamless integration to the ToolBOSS™ tool management system via the Machining Cloud.



Specifically, NOVO™ users can request a price quote from their local Kennametal Distribution Partners by transferring their shopping cart list to them via the "Request Quote" button. The distributor will receive a notification with complete detail of the items and requestor information to respond. A new pop-up also makes it easy to add spares and other individual items to existing shopping carts. Spare parts are clearly identified as "included" or "non-included" on bills of material.



ToolBOSS™ users on the cloud with the latest software version can now use NOVO™ to see if an item proposed for a process plan is already available in their ToolBOSS inventory, making both plans and budgets more efficient. Customer part numbers are automatically populated in NOVO™ Tool Advisor results and Tool Availability pop-ups via the ToolBOSS™ database. "By adding ToolBOSS™ credentials to their user profile, customers easily check the inventory in their local ToolBOSS™ units with their developing process plans," says Chris Merlin, Marketing Manager for the Virtual Machining initiative at Kennametal. "They're better able to visualize items already in their shop."



Users can leverage NOVO™ via the tablet of their choice. "Mobility is no longer a luxury. With Android, Apple and Windows Tablet versions of NOVO™ now available, it brings an element of added mobility and access to your tool list no matter which device you log onto," Merlin adds. "This also makes it easy for people working on the shop floor with tablets to collaborate with the process planners in other departments."



All Optimized for Your Shop

Delivering real tool data and process knowledge is one thing – where NOVOsphere™ delivers a knockout punch is optimizing process savings based on performance data drawn directly from your shop floor equipment. "NOVO™ Optimize is the newest manufacturing intelligence application in NOVOsphere™," says Colin Tilzey, director of Kennametal's Innovation Ventures Group. "It collects real-time data on how your cutting tools and machines are performing and also provides analysis of where process efficiencies or capacity improvements are available."



Every shop sits on a rich mine of data that it can collect for its own continued improvement, but a significant drawback is efficiently gathering the data from different makes and models of machines and tools. All NOVO™ Optimize data and process knowledge complies with the MTConnect open, extensible, royalty-free communications protocol designed specifically for the shop-floor environment. This means NOVO™ Optimize can draw data from machine tools, cutting tools, presetters or any piece of shop equipment or data source. And because it's connected to NOVO™, it can automatically recommend process knowledge changes (speeds and feeds) or identify better-performing tools based on your specific needs – get the job done faster or optimize a specific machine or cell based on shop workload. "Each shop using NOVO™ Optimize has improvement opportunities unique to them based on operator feedback and shop conditions," Tilzey says. "Identifying sources of machine downtime combined with powerful knowledge-based recommendations means the possibility for real, significant process improvement is just waiting to happen."



Such empowered shops better plan, process, and optimize their operations for significant productivity gains. The NOVO™ Optimize application is a subscription-based system developed in conjunction with Berkeley, CA- based System Insights Inc allowing customers to optimize a specific machine or an entire shop.



For more information, visit http://www.kennametal.com/novo/



SIDEBAR 1 – How It Works

NOVO™ can be used in a number of intuitive ways, from "I need to make a ½" hole x 1 ½" deep in ANSI 4140" to "I need a ½" by 5xD solid-carbide drill in grade KC7315." In the first case, NOVO™ helps users define machining features, drilling a blind hole in this case, and then immediately reduces the product set to those that can do the job, taking into account constraint requirements such as material, tolerance, and machining sequence for both single tools and multi-tools. NOVO™ then ranks the results—based on knowledge-based rules—to best meet the challenges of the application as defined by the customer's operating environment and user preferences, providing far more useful process knowledge than any online catalog alone, all obtained in a fraction of the time.



In the second case, when a customer already has preferred tool and grade in mind, NOVO™ smart-attribute filters not only quickly select the products available to do the job, NOVO™ also gives the options on what cutting item and adaptive item fits and also works with the selected solution. NOVO™ smart filters take the task of selecting ALL cutting tool components from hours to minutes, while users get a comprehensive and correct list based on their input.



In both cases, NOVO™'s Tool Configurator then provides all CAD files and graphic support for all tool components and their assembly – a major time savings for customers.



"NOVO™ thinks like a process planner," explains Thomas Long, head of the newly formed Virtual Machining RDE department at Kennametal. "It works from the feature back to the tooling strategy. In addition, each order number is tied to application data gleaned from hundreds of subject matter experts and decades of Kennametal experience. Request a part number and you also get pictures, assemblies, spare parts lists, as well as inserts that fit. Not only does it accomplish in minutes what formerly took hours, it yields an optimized solution, backed by Kennametal expertise, every time"



Even further, NOVO™'s Job Functionality option is a cloud-based repository linked to a user by a unique ID where tool lists can be stored for future use, editing, copying, and sharing. These can be easily downloaded into standard report formats and include tooling commercial and dimensional data and weights, speeds and feeds, and photo or CAD model images.



SIDEBAR 2 -- Addressing the Skills Gap

Manufacturing is experiencing a global renaissance in developed and emerging economies around the world as major industries such as aerospace, automotive, energy and others consistently demand new and better products. Manufacturing technology providers have responded with computer-driven machine tools, digital-based computer-aided design and manufacturing software (CAD/CAM), and significant advances in tooling. Yet behind this positive outlook lies a major barrier threatening this scenario: a significantly widening skills gap as older workers retire and new workers fail to engage in manufacturing careers.



"To effectively meet the skills gap for our customers, we need a better way to distribute the collected knowledge of Kennametal," states Francois Gau, VP of Strategic Marketing and New Business Development. "More than a catalog, NOVO™ brings users into a community -- all our ongoing expertise delivered in a digital means of accessing process knowledge quickly. The result empowers users by providing the right solutions specifically tailored to their operations. It solves problems instead of managing data."



Real tool data is ranked on best fits with the user's cutting parameters, providing a range of choices for increased efficiencies.



Seamless integration with e-commerce and ToolBOSS™ tool management improves tool availability



More than a tool catalog, NOVO™ includes tool advisor knowledge for a range of machining strategies.



NOVO™ Optimize from Kennametal: a fundamental change in improving productivity.



NOVO™ Optimize fundamentally changes how manufacturing can increase manufacturing efficiency and productivity. Learning from tool usage directly from the user's own machine tools, the system automatically recommends process improvements as well as tracking machine tool usage and identifying areas to focus on which to focus continuous improvement.



Identification of part cycle time and cost savings from NOVO™ Optimize recommendations.



Machine tool efficiency identification and optimization by NOVO™ Optimize



Kennametal

Celebrating more than 75 years as an industrial technology leader, Kennametal Inc. delivers productivity to customers seeking peak performance in demanding environments. The company provides innovative wear-resistant products, application engineering and services backed by advanced material science, serving customers in 60 countries across diverse sectors of aerospace, earthworks, energy, industrial production, transportation and infrastructure. With approximately 14,000 employees and nearly $3 billion in sales, the company realizes half of its revenue from outside North America, and 40% globally from innovations introduced in the past five years. Recognized among the "World's Most Ethical Companies" (Ethisphere); "Outstanding Corporate Innovator" (Product Development Management Association); and "America's Safest Companies" (EHS Today) with a focus on 100% safety, Kennametal and its foundation invest in technical education, industrial technologies and material science to deliver the promise of progress and economic prosperity to people everywhere. For more information, visit the company's website at



Kennametal Inc.

1600 Technology Way

PO Box 231

Latrobe, PA 15650-0231

USA

LINDEN Kathy

Phone : 724 539 5698

Fax : 724 539 6766

kathy.linden@kennametal.com



Kennametal Inc.

1600 Technology Way

PO Box 231

Latrobe, PA 15650-0231

USA

GROMOLL Carsten

Phone : +1 724 539 8033

carsten.gromoll@kennametal.com

More from Software