Process Optimization Software uses data from cameras, sensors.
Press Release Summary: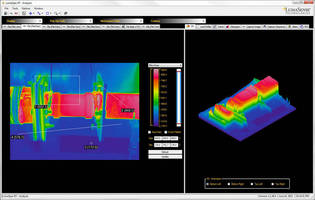 LumaSpec(TM) R/T software helps manufacturers improve industrial processes by tightly integrating thermal imaging cameras with range of temperature- and gas-sensing technologies. Monitoring and analyzing processes in real-time, software helps plants improve product quality, lower production expenditure, and reduce safety hazards as well as downtime. Plants can set up monitoring applications and seamlessly configure alerts with their control systems.
---
Original Press Release:

LumaSense Software Helps Manufacturers More Easily Integrate Infrared Cameras with Other Gas and Temperature Sensors



LumaSpec R/T Allows Plants to Use Off-the-Shelf Software to Improve Process Efficiency, Safety with Real-Time Monitoring Applications

SANTA CLARA, Calif. - LumaSense Technologies Inc. has released a suite of off-the-shelf software that will allow manufacturers to improve industrial processes by tightly integrating thermal imaging cameras with a wide range of temperature and gas-sensing technologies. The LumaSpec(TM) R/T software is ideal for industrial segments such as refining and power generation where critical vessel monitoring and combustion imaging are vital to running processes safely and efficiently. The software is designed to monitor and analyze processes in real time to help plants improve product quality, lower production costs and reduce safety hazards and downtime. Additionally, LumaSpec R/T's versatility allows industries such as steel, glass and plastic manufacturing to easily gain quality and efficiency benefits.

Using LumaSpec R/T, plants can easily set up monitoring applications and seamlessly configure alerts with their control systems. This allows operators to detect and correct process and equipment irregularities before they can cause loss, damage or injury. It can also guide them to cost-saving opportunities through reduced energy usage, improved efficiency and less waste in their processes.

"As the price of infrared technology has decreased, more manufacturers have discovered how valuable it is in helping them run their processes more efficiently and safely. When you have more devices, though, it can be challenging to make sense of all the data they're providing," said Brett Sargent, LumaSense's vice president/general manager of products. "LumaSpec R/T was designed to simplify the process of converting that data into actionable information that operators can use to make their processes more productive and efficient."

When combined with cameras such as the recently released LumaSense MC320, LumaSpec R/T can accurately measure process temperatures and ensure production quality where individual images would be insufficient. Among others, the software includes features such as:

Camera control functionality via Standard or GigE Ethernet interface

Power over Ethernet (POE)

Real-time image acquisition

Thousands of regions of interest (ROIs)

ROI minimum and maximum alarm set points

Pop-up display tools

Multiple color palettes for optimal image quality

For more information, please visit www.lumasenseinc.com

About LumaSense Technologies(TM)
For over 50 years, LumaSense Technologies, Inc. (LumaSense), has provided innovative temperature and gas sensing instruments for the energy, industrial, clean technology and commercial markets.

Our unrivaled passion for excellence is why we have become one of the world's most trusted sensing solution provider. Through our precision engineered systems, our customers have gained control over their most difficult temperature and gas sensing challenges. Beyond providing the highest quality products, our customers turn to us, knowing our commitment to their success comes first. With expert application understanding and a growing portfolio of products, LumaSense can combine several technologies together into novel solutions even for the most complex environments.

With offices in Asia, Europe and the Americas, LumaSense is ideally positioned to serve the needs of the energy, industrial and clean technology markets worldwide. For more information about LumaSense Technologies, visit our website at www.lumasenseinc.com


More from Agricultural & Farming Products