Process Gas Chromatograph operates over -20 to 130°F range.
Press Release Summary: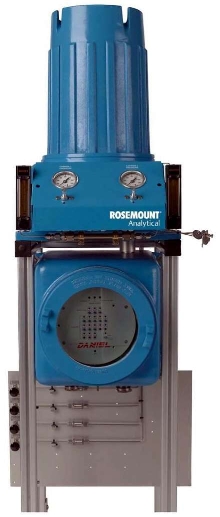 Offered with single- or dual-detector capability, Model 700 provides real-time compositional data in various process applications. It measures in percentage or down to parts-per-million and thermal conductivity detector with thermistor provides universal response to all compounds. Unit stores up to 99 days of analysis data and 254 item averages. Flow paths in 6- or 10-port valve are arranged so that internal moving parts never connect with sample flow.
---
Original Press Release:

Emerson Announces Addition to its Extensive Line of Rosemount® Analytical Process Gas Chromatographs


New Model 700 provides best combination of advanced technology and rugged instrumentation for optimal reliability and efficiency

ORRVILLE, OHIO (March 9, 2005) - The newest addition to Emerson Process Management's line of process gas chromatographs, the Rosemount® Analytical Model 700 is ideal for providing real-time compositional data in typical process applications for refining, ethylene and olefin processing as well as flare gas analysis and gas turbine control. The Model 700 offers low cost of ownership, single- or dual-detector capability, an extreme ambient temperature operation, high-sensitivity thermal conductivity detectors and advanced diagnostics and troubleshooting.

Whether the components of interest are in the percent range or down to the parts-per-million (ppm) range, a precise and reliable measurement is possible. The Thermal Conductivity Detector's (TCD) thermistor is the detector of choice for most applications due to its universal response to all compounds. The TCD is designed to go well beyond the normal measuring ranges for many applications with low ppm measurement requirements.

Because of its ability to be field-mounted, the Model 700's cost-of-ownership expenses such as shelters, air conditioning, heating and long/heated sample lines, are virtually eliminated in most applications. In addition, Rosemount Analytical gas chromatographs greatly reduce the overall lifetime cost of the measurement by allowing process measurements to occur near the sample point.

The chromatograph valves in the Model 700 are unique to the on-line gas chromatograph market. Flow paths in the valve are arranged so that internal moving parts never connect with the sample flow. The valve is available in both six-port and 10-port versions to handle both simple and complex column valve arrangements. Minimal movement of the components in the valve - roughly 1/1000th of an inch - results in the virtual elimination of abrasive mechanical wear on the valves. The valves are rated for more than 5 million operations before repair (approximately 3-5 years of usage). When adjustments are required, all components of the Model 700 are easily accessible so that technicians can make repairs in minutes using standard tools.

Rosemount Analytical gas chromatographs can be configured in a number of networking communication schemes to meet most process communication requirements. Options include Ethernet networks, as well as multi-drop RS-485 networks. To preserve the integrity of the analysis data, all Model 700 gas chromatographs are capable of storing up to 99 days of analysis data to aide in the event of a communication loss to the plant control system.

The Model 700 offers a variety of additional features, including:

· Reliable performance over broad ambient temperatures (-20° F to 130° F)

· Ability to archive up to 254 item averages (more than three months of standard runs)

· Easy-to-use MON2000 PC software for advanced diagnostics and simplified troubleshooting

· Rigorous testing in an environmental chamber between 0° F to 130° F for a minimum of 24 hours

About Emerson Process Management
Emerson Process Management (www.emersonprocess.com), an Emerson business, is a leader in helping businesses automate their production, processing and distribution in the chemical, oil and gas, refining, pulp and paper, power, food and beverage, pharmaceutical and other industries. A division of Emerson, Rosemount Analytical (emersonprocess.com/proanalytic) includes a gas division in Orrville, Ohio, that is a leading supplier of on-line gas analyzers and systems for process, environmental and laboratory analysis applications. The best-in-class technology and expertise of Rosemount Analytical play a key role in Emerson's combining of superior products and technology with industry-specific engineering, consulting, project management and maintenance services. Emerson brands include: PlantWeb®; Fisher®; Rosemount®; Micro Motion®; Daniel®; DeltaV(TM); Ovation®; and AMS(TM) Suite.

About Emerson
Emerson (NYSE: EMR), based in St. Louis, is a global leader in bringing technology and engineering together to provide innovative solutions to customers through its network power, process management, industrial automation, climate technologies, and appliance and tools businesses. Sales in fiscal 2004 were $15.6 billion. For more information, visit www.GoToEmerson.com.

PlantWeb, Fisher, Rosemount, Micro Motion, Daniel, DeltaV, Ovation, and AMS are marks of Emerson Process Management. All other marks are the property of their respective owners.

More from Electronic Components & Devices