Process Controller automates water distribution systems.
Press Release Summary: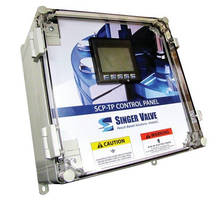 Operated via color touchscreen, SCP-TP can be set up in field and complements dual solenoid control valve. Controller can switch between settings for level control, up and down stream pressure management, flow control, and position control; offers ON/OFF control; and can be configured with 4–20 mA control motor. Along with digital input controls and user-selectable digital output alarms, features include datalogging, trending graphs, and remote SCADA control and monitoring support.
---
Original Press Release:

Singer Valve Inc. Launches the SCP-TP Process Controller for Quick and Easy Automation of Water Distribution Systems



Surrey, BC – Singer Valve, a leading manufacturer of control valves has launched the new SCP-TP Process Controller.   Ryan Spooner, Manager of Instrumentation and Automation for Singer Valve said, "Everything you can think of wanting in a control panel, we have incorporated into this Single Process Controller and we've made it easy for anyone to use with a colour touch screen interface."  The SCP-TP is easy to setup in the field and Singer also offers onsite commissioning assistance and training for utility staff if needed.



The SCP-TP Controller is designed to complement a dual solenoid control valve and can switch easily between settings for level control, up stream and down stream pressure management, flow control and position control.  The SCP-TP also offers ON/OFF control and can be configured with a 4 – 20mA control motor such as the Singer 420 DC pilot mounted control motor. The SCP-TP is equipped with easy to use digital input controls and user selectable digital output alarms. Added features such as data logging, which logs all sensor feedback and set-point data as well as trending graphs, can be used for system analysis for water loss prevention and overall system pressure management.



The SCP-TP Controller reads and compares the process feedback (process variable) 4 to 20 mA signal to the desired setting (set-point) which is set either locally on touch screen or remotely via 4 to 20 mA signal. The SCP-TP then accurately positions the valve to bring the process variable towards the set-point until they coincide. The SCP-TP has the capability to retransmit the process variable via a 4 – 20mA signal and is equipped with both Serial and Ethernet Modbus capabilities for remote SCADA control and monitoring.



About Singer Valve

Since 1957 Singer Valve has been designing, manufacturing and distributing pilot operated diaphragm control valves.  With innovative technologies, the company provides solutions for water loss management, water conservation and urban water and wastewater distribution throughout the world.  By using quality materials and testing every valve and pilot before it is shipped, Singer Valve has an unprecedented track record for long lasting, easy to maintain solutions that work upon installation.  Singer Valve's electronic division provides instrumentation and control solutions to manage unique applications. For more information, go to www.singervalve.com.



Shore Communications

www.shorecommunications.ca

Ph: 604-729-9479

More from Cleaning Products & Equipment