Process Control System targets heat-tracing applications.
Press Release Summary: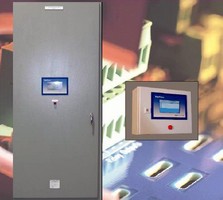 Providing continuous monitoring of temperature, ground fault, operating currents, and voltages, DigiTrace NGC-30 power distribution system can control up to 260 circuits with multiple networked panels. Problems and upsets are reported on User Interface Terminal which allows central access to all heat-tracing circuits. Features like alarms, events, data logging, trending, recipes, and batching simplify maintenance of any heat-tracing installation.
---
Original Press Release:

Tyco Thermal Controls Announces DigiTrace® NGC-30 Advanced Heat-Tracing Control, Monitoring and Power Distribution System



The next generation in heat-tracing control has arrived

REDWOOD CITY, CA. (October 6, 2006) - Tyco Thermal Controls, the world leader in heat-tracing solutions, today announced the worldwide release of DigiTrace® NGC-30, an advanced electronic multi-circuit control, monitoring and power distribution system for industrial heat-tracing applications. This new system is the first of a new family of advanced control & monitoring products designed to meet the industrial customers' demands for process system control & monitoring.

DigiTrace NGC-30 is a multi-circuit electronic control, monitoring and power distribution system for heat-tracing used in process-temperature maintenance and freeze-protection applications. The NGC-30 system can control up to 260 circuits with multiple networked panels. The system provides continuous monitoring of temperature, ground fault, operating currents and voltages where a change in levels indicates potential issues in the field. Upsets are reported to the user with clear messages and alarms on the DigiTrace User Interface Terminal or remotely using the client-server software package DigiTrace Supervisor(TM). The DigiTrace User Interface Terminal has a state-of-the-art color touch screen and allows convenient central access to all heat-tracing circuits. The DigiTrace Supervisor client-server software package provides a graphical interface and allows the user to configure and monitor many DigiTrace NGC systems from a central location. Features like alarms, events, data logging, trending, recipes and batching have been included, to simplify maintenance of any heat-tracing installation.

The reduction in the number of on-site maintenance personnel coupled with the demand for safe and reliable operation has increased the need for centralized access to critical information on the integrity of heat-tracing systems.

Tyco Thermal Controls offers the DigiTrace NGC-30 as a complete solution where the control system is already fully integrated into engineered control and power distribution panels. The intuitive software and local graphic user interface simplifies set-up and operation of specific control points.

"The NGC-30 is the most advanced heat-tracing control system in the industry and reinforces our commitment to provide a complete heat-management system" said Jim Beres, Vice President of Marketing and Business Development for Tyco Thermal Controls.

For more information on the DigiTrace NGC-30 system, call Tyco Thermal Controls at (800) 545-6258, send an email to info@tycothermal.com, or simply visit www.tycothermal.com. Tyco Thermal Controls is a global provider of heat-tracing, wiring, snow melting & de-icing, leak detection, temperature measurement, and specialty heating products and services. The company's range of products and services include consultation, design, installation, and maintenance solutions for applications in the industrial, commercial and residential markets. Its products are sold worldwide under well established brands such as DigiTrace®, Raychem®, Pyrotenax®, Tracer®, Frostex®, TraceTek®, Isopad® and WinterGard®. Further information on Tyco Thermal Controls can be found by visiting www.tycothermal.com.

Tyco International Ltd. is a global, diversified company that provides vital products and services to customers in four business segments: Electronics, Fire & Security, Healthcare and Engineered Products & Services. With 2005 revenue of $40 billion, Tyco employs approximately 250,000 people worldwide. More information on Tyco can be found at www.tyco.com.

Contacts:
Peter Curtis
650-474-7400
pjcurtis@tycothermal.com

More from Sensors, Monitors & Transducers