Process Chillers are designed for wine making applications.
Press Release Summary: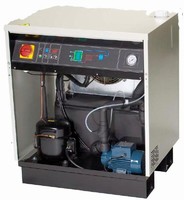 Self-contained air-cooled Model TAE M10 Process Chiller has features to prevent clouding or browning during fermentation. It features standard quick chill capability to 20-25°F and is enclosed in 30 x 22 in. galvanized steel cabinet with optional caster wheels for mobility. Condenser and airflow properties permit operation in temperatures to 105°F, and low water pressure drop is less than 2 psi. Stainless steel accumulation tank is completely sealed.
---
Original Press Release:

Process Chillers are Specially Designed for Wine Making Applications



Air Cooled Model TAE M10 Process Chiller includes all necessary features and functions to prevent clouding or browning during fermentation. Along with quick chill capability to 20-25°F (chills to 5°F if necessary), self-contained system with pump & tank system is enclosed in 30 x 22 inch cabinet with optional caster wheels for mobility.

The large condenser and increased airflow permit operation up to 105°F, and low water pressure drop is less than 2 psi. Made of stainless steel, the accumulation tank can be connected to open fluid circuits, and is completely sealed. The cabinet is manufactured from galvanized steel, etched and finished in baked epoxy coating.

General's M10 comes standard with level 1 microprocessor control plus main switch, 4 membrane switches, 2 digit LED window (7 segments each), and 2 LEDs. Combination evaporator/storage tank is piped to a pump with a fixed by-pass to prevent dead head condition and to ensure continuous water flow through the evaporator. Close-coupled TEFC motor is standard.

The R22 Evaporator has refrigeration grade copper coil with external aluminum fins, immersed in an insulated storage tank. Unit is supplied with sealed 304 stainless steel tanks and a built in plastic fill/vent tank is included. High efficiency, fully hermetic, reciprocating, heat pump duty compressor, with low noise level, is suction gas cooled and fitted with internal thermal protection and anti-vibration mountings.

For more details call
1-800-345-8207
or visit our web site
http://www.generalairproducts.com/WineChillers.pdf

More from Software