Universal Process / Temperature Controllers
Process Automation System improves safety system integration.
Press Release Summary: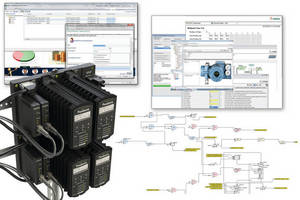 Foxboro Evo delivers tools and applications across high-speed, fault-tolerant, and cyber-secure hardware platform, including integration of Triconex safety system. Applications enable plant personnel to make appropriate business decisions at appropriate time by streamlining and contextualizing information needed. System includes high-speed controller, field device management tools, maintenance response center, enterprise historian, 1-n redundancy, and cyber security hardening.
---
Original Press Release:

Invensys Unveils Next-Gen Foxboro Evo Process Automation System



-- Advanced roles-based tools, extra processing power and safety-system integration improve business continuity and profitability; future-proof automation investments --



HOUSTON, TEXAS — Invensys, a leading supplier of state-of-the-art industrial software, systems and control equipment to the world's major industries, today unveiled its next-generation process automation system. With advanced tools and applications delivered across a high-speed, fault-tolerant and cyber-secure hardware platform, including the integration of the company's world-leading Triconex safety system, the Foxboro Evo process automation system was designed to improve operational insight and integrity.



"The three most important ways a process automation vendor can help its customers secure their future is to protect the operational integrity of their plants, enhance the operational insight of its people and enable them to adapt easily and affordably to change," said Gary Freburger, president of Invensys' systems business. "Our new Foxboro Evo system does that with unrivaled elegance. With more powerful processing capacity and other new, advanced applications, the system allows our customers to uncover new and hidden value from within their operations. This is another automation breakthrough from a company with a 100-year history of delivering innovative technology advancements. We're excited about what this means for the industry and for our customers, and we look forward to continuing to help them safely achieve their short- and long-term business and operations goals."



The Foxboro Evo process automation system has evolved directly from pioneering Foxboro I/A Series and Triconex technology, both entrusted to control and protect some of the world's largest, most complex process facilities and known for their innovative, layered architecture. The system extends this approach through a component object-based platform, which can undergo major upgrades without halting operations.



"We needed to upgrade the vast majority of our DCS, but like most sites, we didn't have the luxury of a site-wide shutdown to make a full change possible," said Michael McKenzie, distributed control systems specialist for BP in Brisbane, Australia. "We were facing a substantial obsolescence issue, which we had ranked as a significant risk to ongoing operations, so we needed a solution that would allow us to upgrade components as we needed them, without sacrificing functionality or usability for operators. The new Invensys system allowed for a much easier upgrade of all components and will ensure that we can keep our system well away from obsolescence, so that we're not required to perform any additional large-scale upgrades."



Because users can upgrade at their own pace, the Foxboro Evo system delivers the lowest total cost of automation and highest return on assets. Additionally, its new applications improve the ability of plant personnel to contribute toward the success of the business by streamlining and contextualizing the information they need to make the right business decisions at the right time.



"As the pace of global business accelerates, automation technology becomes increasingly important in helping manufacturers focus on finding more value within their operations and automation assets," said Chris Lyden, senior vice president for Invensys. "If users in the control room and in the field can better interpret the growing volume and complexity of the information they receive within the proper context of procedures and operational risk, then they will make more valuable contributions to the business. The Foxboro Evo system is loaded with new features that will help them do that, and it is structured to evolve with them as they and their companies change and grow."



The Foxboro Evo system includes a new high-speed controller, field device management tools, a maintenance response center, an enterprise historian, 1-n redundancy and cyber security hardening. And because the company's broad portfolio of roles-based engineering tools and productivity applications are integrated within it, the system provides superior visibility into historical, real-time and predictive operating information to help drive production efficiency.



Safety and security personnel will benefit from an innovative coupling of control and safety, which enables sharing of operational information while keeping the safety system functionally isolated, as well as state-of-the-art cyber security.



Engineers will be able to reduce their workloads, protect schedule integrity and reduce risk via more intuitive design and troubleshooting features, virtualization and other flexible technology.



Operators will gain a more complete, real-time view of plant activity via an updated high-performance, mobile accessible HMI.  



Maintenance technicians will enjoy lower meantime between repairs via real-time device alerts and analytics, alarm triage, performance monitoring and other benefits.



Current Foxboro I/A Series DCS users can migrate to the Foxboro Evo system with little or no downtime, depending on which version they are running. Users of competing process automation systems, whose wiring terminations are still functional, can migrate to the Foxboro Evo system without ripping and replacing infrastructure, significantly reducing costs and downtime, just as they were able to do with the I/A Series system.



The Foxboro Evo system will be on display at the company's Foxboro and Triconex Client Conference being held this week in San Antonio, Texas. For more information about the system, please visit www.foxboro.com/foxboroevo.



About Invensys

Invensys is a global technology company that works in partnership with a broad range of industrial and commercial customers to design and supply advanced technologies that optimize their operational performance and profitability. From oil refineries and power stations to mining companies, food and beverage companies and appliance manufacturers, Invensys' market-leading software, systems and controls enable its customers to monitor, control and automate their products and processes, thereby maximizing safety, efficiency, reliability and ease of use. To learn more about Invensys, visit invensys.com.



Invensys, the Invensys logo, Evo, Foxboro, I/A Series and Triconex are trademarks of Invensys plc, its subsidiaries or affiliates. All other brands and product names may be trademarks of their respective owners.

More from Agricultural & Farming Products