Process Air Heater heats nitrogen/inert gas up to 1,400°F.
Press Release Summary: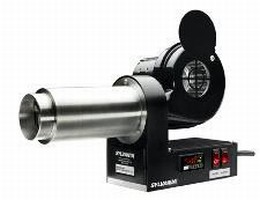 Featuring digital display temperature control, SKORPION(TM) Process Air Heater provides full closed-loop PID temperature regulation with ±2° accuracy. Device includes serpentine coil design for maximum heat transfer efficiency, blower motor, air intake, and intelligent over-temperature sensing system. All-metal air source ensures operation in dusty environments, and unit also features adjustable air damper for flow control.
---
Original Press Release:

SYLVANIA Introduces SKORPION Heater



New Product's Integrated Technology Ensures Long Life

Ease of Use and Easy Maintenance

Danvers, Mass. (June 19, 2007) - North American technology leader OSRAM SYLVANIA introduces the new SKORPION(TM) Process Air Heater, representing the perfect combination of power, size, reliability and control in Air Heating technology. An integrated system with digital display temperature control, the SKORPION is used for heating process air, nitrogen and inert gasses up to 1400°F (760°C).

The SKORPION features SYLVANIA's unique, long life Serpentine coil design for maximum heat transfer efficiency. An intelligent over-temperature sensing system prevents premature failure and ensures high performance and long-term durability. The unit is equipped with a long-life blower motor and large air intake, which eliminates clogging and prevents premature failures.

"The SKORPION incorporates the traditional SYLVANIA features of durability, reliability and precise control, but adds the convenience of a complete turnkey system with a fully integrated heater, air source and temperature controller," Gary Muzzey, engineering manager for Heating Products, OSRAM SYLVANIA, said. "While the unit is completely self-contained, all major components, including heating elements, blower and electronic controls, are replaceable for ease of maintenance."

Whether being used for drying, curing, melting, shrinking or sealing, the SKORPION provides full closed-loop PID temperature regulation up to 1400°F (760°C) with +/- 2° accuracy. In addition, the SKORPION's all-metal air source is powerful and robust, ensuring reliable operation in dusty environments, with an adjustable air damper for flow control. Two flares and a nozzle are offered as accessories to the SKORPION heater.

To learn more about the SKORPION Process Air Heater and other air heater products, please visit our website at www.sylvaniaheaters.com/skorpion.

About OSRAM SYLVANIA:

OSRAM SYLVANIA is a leader in lighting solutions and specialty products that feature innovative design and energy saving technology. The company sells products for homes, businesses and vehicles primarily under the SYLVANIA brand name, and also under the OSRAM brand. Headquartered in Danvers, Mass., OSRAM SYLVANIA is the North American operation of OSRAM GmbH, a wholly owned subsidiary of Siemens AG. For more information, visit www.sylvania.com.

Raoul Verheggen
OSRAM SYLVANIA/978.750.2582
Raoul.Verheggen@sylvania.com


More from Electrical Equipment & Systems