Data and Database Management Software
Process Acquisition Controller offers web-based reporting.
Press Release Summary: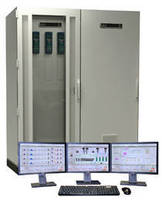 Comprising logic controller and Daniel S600+ flow computers, DanPac™ v3.0 provides visibility into oil and gas custody transfer and fiscal flow metering installations. CalPac™ metering software automates flow measurement calculations and data processing, including gas and liquid calculations, measurement uncertainty, and meter factor trending. Providing secure and encrypted PDF reporting capabilities, web-based reporting application eliminates possibility of data manipulation.
---
Original Press Release:

Emerson Enhances Process Acquisition Controller to Provide Greater Visibility into Oil and Gas Custody Transfer and Fiscal Flow Metering Installations



Daniel DanPac™ with expanded metering software suite and extensive web-based reporting package delivers reliable and accurate measurement



HOUSTON, TEXAS – Emerson Process Management has released a new version of its Daniel process acquisition controller. New features in DanPac™ Version v3.0 build on the system's ability to reduce measurement uncertainty, facilitate remote monitoring, and control high precision oil and gas custody transfer and fiscal metering systems.



Key features in the new release include the CalPac™ metering software suite which is comprised of a number of applications developed to automate flow measurement calculations and data processing, including gas and liquid calculations, measurement uncertainty, and meter factor trending.  Integrated historical system performance, and process trending capabilities enable operators and management to monitor the metering system.  Operators can identify potential meter problems before they can adversely impact system performance. The applications allow automated online validation of metering data in accordance with industry standards, including API, ISO and AGA, to minimize errors and satisfy audit trail requirements.



The DanPac v3.0 release also includes a powerful enterprise class web-based reporting application to enhance accessibility and audit traceability. The platform provides secure and encrypted PDF reporting capabilities. These eliminate the possibility of data manipulation and safeguard the integrity of custody transfer and fiscal metering transactions.  Users can also customize reporting content and layout to fit their needs. In addition, DanPac easily integrates with a broad variety of DCS hosts and SCADA systems to provide metering information.



The DanPac solution has been adopted by all the major oil and gas companies and has been used on custody transfer systems on every continent.  The sophisticated technology replaces a long-standing industry approach that didn't provide the needed reliability, ease of serviceability, robustness, and cost savings. The industry relied largely on one-off, custom-built control solutions that were expensive to structure and support, making training and service costly, limited, and slow. By implementing the DanPac solution, customers have been able to benefit not only from a standardized control system with integrated engineering and operations environment, but also from a single point of responsibility for global, consistent, and rapid support services.



"The DanPac system fulfills the industry's need for a standardized and smart fiscal metering control system that can help operators lower their cost of ownership, increase utilization, and speed system support," said Steve Colella, vice president and general manager of Daniel's global metering systems business. "Investment ROI and operating expenses are positively impacted using the DanPac solution which can provide much greater visibility to the skid systems by using web-based reporting with advanced diagnostics and applications embedded in the control hardware."



The DanPac solution is available in four flexible system configurations to ensure a cost-effective solution regardless of the size of the metering operation. The architecture of DanPac v3.0 includes a logic controller and the Daniel S600+ flow computers. It is designed to be redundant for high reliability which is particularly valuable on offshore and remote locations.



About Emerson Process Management

Emerson Process Management (www.EmersonProcess.com), an Emerson business, is a leader in helping businesses automate their production, processing and distribution in the chemical, oil and gas, refining, pulp and paper, power, water and wastewater treatment, mining and metals, food and beverage, life sciences and other industries. The company combines superior products and technology with industry-specific engineering, consulting, project management and maintenance services. Its brands include PlantWeb™, Syncade™, DeltaV™, Fisher®, Bettis™, Micro Motion®, Rosemount®, Daniel™, Ovation™ and AMS Suite.



About Emerson

Emerson (NYSE:EMR), based in St. Louis, Missouri (USA), is a global leader in bringing technology and engineering together to provide innovative solutions for customers in industrial, commercial, and consumer markets around the world. The company is comprised of five business segments: Process Management, Industrial Automation, Network Power, Climate Technologies, and Commercial & Residential Solutions. Sales in fiscal 2013 were $24.7 billion.  For more information, visit www.Emerson.com.

More from Agricultural & Farming Products