Probes use ultrasound or radar to measure fill levels.
Press Release Summary: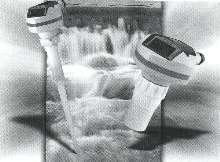 Two-conductor, Sitrans Probes LU and LR continually measure fill level of storage tanks and process vessels, as well as flow rate in open flumes. Interference echoes are automatically filtered out to ensure reliable analysis of echo signals. Ultransonic transceiver, Model LU offers 12 m measuring range in liquids and slurries, while radar level transmitter, Model LR operates at 5.8 GHz or in North America at 6.3 GHz with measuring range of 0.3-20 m.
---
Original Press Release:

Measuring Fill Levels of up to 20 Meters with Radar or Ultrasound


Sitrans Probes LU and LR from Siemens Automation and Drives (A&D) continually measure the fill level of storage tanks and process vessels as well as the flow rate in open flumes. The Sitrans Probe LU operates with ultrasound, the Sitrans Probe LR with radar. Both new devices process signals over a broad
measuring range and have a high signal-to-noise ratio. Interference echoes are automatically filtered out to ensure reliable analysis of echo signals. System operators in the water/sewage, food products, mining, cement or chemical
industries benefit by reliable results with high precision.

The 2-conductor Sitrans Probe LU ultrasonic transceiver has a measuring range of up to 12 meters in liquids and slurries and is particularly well suited for stored food products and chemicals. The low-noise sensor is made of ETFE (ethylene-
tetrafluorethylene) or PVDF (polyvinylidene fluoride) with patented anti-noise shielding and is robust under exposure to various chemicals and varying temperatures.

The 2-conductor Sitrans Probe LR radar level transmitter measures fill levels and volumes in applications involving chemical vapors, temperature gradients, vacuum and high pressure. The solid polypropylene rod antenna operates at 5.8 gigahertz, in North America at 6.3 gigahertz, with a measuring range of 0.3 to 20 meters. It is highly resistant to chemicals and hermetically sealed. The integrated interior shielding
suppresses noise, such as might result from mounting studs.
Further information can be found on the Internet at: http://www.siemens.com/processinstruments

More from Electrical Equipment & Systems