Probe System simplifies routine machining setup.
Press Release Summary: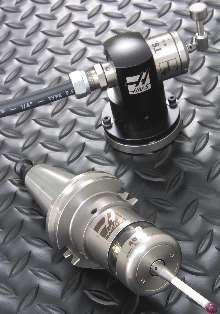 Visual Quick Code (VQC) Probing System consists of spindle probe, contact tool setting probe, optical receiver, and Renishaw's Inspection Plus software. Machinists create probe routines for tool setting and part setup using graphical interface and question/answer format by entering basic information into the Haas control through Visual Quick Code.
---
Original Press Release:

Easy-to-Use and Affordable Probing System from Haas


Few machinists will dispute the merits of probing for speeding part setup, setting tool offsets and performing in-process inspection . . . at least in theory. In practice, however, probe systems traditionally have been viewed as difficult to use and expensive to buy. As a result, they've become tools used primarily by experienced programmers in high-production environments.

The new Visual Quick Code Probing System from Haas Automation, Inc., changes all that. Working in conjunction with Renishaw, a world leader in probe systems, Haas has developed an affordable, easy-to-use system that puts probing technology into the hands of the machinist.

Available as an option on new Haas vertical machining centers, the VQC Probing System consists of a spindle probe, a contact tool setting probe, an optical receiver and Renishaw's Inspection Plus software. The entire system is installed and calibrated at the Haas factory, and sells for just (US) $4,995.

The key to the system's ease of use is Haas' Visual Quick Code, a conversational programming system that uses a graphical interface and a question/answer format to create G-code programs. Unlike other systems, the Haas VQC Probing System does not require knowledge of macro programming to use. Rather, the machinist quickly and easily creates probe routines for tool setting and part setup simply by entering basic information into the Haas control through Visual Quick Code.

For example, to probe the external corner of a workpiece and establish a work offset, the machinist simply selects the appropriate graphical template from Visual Quick Code, jogs the spindle probe to within 0.5" of the selected corner and enters the following information: work offset number (e.g., G54), approximate X width of the material, approximate Y width of the material and which corner to probe. Once this information is entered, a pop-up dialogue box prompts the machinist to choose where to output the G code: to a new program, to an existing program or directly to MDI. Once a destination is selected, the G code is generated automatically for the probe routine.

If the G code is output directly to MDI, the machinist simply hits Cycle Start to probe the workpiece and automatically enter the correct offsets into the control. If the machinist chooses to create a new program, the program can be called up immediately to start the probe routine, or saved for later use. If the G code is inserted into an existing part program, it can be used to probe each workpiece and update the offsets prior to machining.

The Haas VQC Probing System also has templates for finding the center of a workpiece, probing a bore or boss, measuring bore-to-bore or boss-to-boss and probing a web or pocket.

The procedure for setting tool offsets is just as simple as setting work offsets, with VQC templates for automatically measuring tool length, tool diameter or both. The machinist can measure tools individually, or quickly create a probe routine to check an entire carousel of tools.

The advantages of probing are undeniable, and now they're easily within reach of the average job shop. The new Visual Quick Code Probing System from Haas is an all-in-one package that is not only easy to use, but extremely affordable. Priced at just $4,995 (US), it is less than half the cost of comparable systems.

But don't let the low price fool you. This Haas-exclusive system is a full-featured, high-resolution probe system that's fully capable of much more than just tool and part setting. Using macros (included) and advanced programming methods, it can perform such operations as in-process tool and part inspection, first-off part measurement, automatic compensation for thermal changes and even check for worn or broken tools. This greatly reduces operator-induced variations in the process, and guarantees confidence in unattended machining processes for lights-out manufacturing.

To see the Haas Visual Quick Code Probing System in action, as well as 29 Haas machines making chips, visit the Haas booth (#8232) at IMTS in Chicago.

Related